The Blackwell Guide to Metaphysics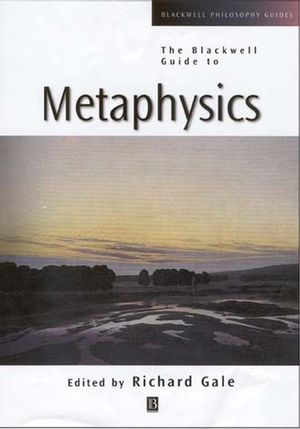 The Blackwell Guide to Metaphysics
ISBN: 978-0-470-99898-4 December 2007 Wiley-Blackwell 360 Pages
Description
The Blackwell Guide to Metaphysics is a definitive introduction to the core areas of metaphysics. It brings together sixteen internationally respected philosophers that demonstrate how metaphysics is done as they examine topics including causation, temporality, ontology, personal identity, idealism, and realism.
Table of contents
List of Contributors.
Preface.
1. Physics, Metaphysics, and Method in Newton's Dynamics: Lawrence Sklar.
2. Causation: Wesley Salmon.
3. What Events Are: Jonathan Bennett.
4. Time, Temporality and Paradox, Richard M. Gale.
5. A Thomist Metaphysics: John Haldane.
6. The Concept of Ontological Catergory: a New Approach: Lorenz Puntel.
7. Universals and Predication: Bruce Aune.
8. Composition as a Fiction: Gideon Rosen and Cian Dorr.
9. What Do We Refer To When We Say 'I'? Peter van Inwagen.
10. Personal Identity: The Non-Branching Form of 'What Matters': Jennifer E. Whiting.
11. Idealism: T.L.S. Sprigge.
12. An Idealistic Realism: Presuppositional Realism and Justifcatory Idealism: Nichlas Rescher.
13. Overcoming a Dualism of Concepts and Causes: The Basic Argument of 'Empiricism and the Philosophy of Mind': Robert Brandom.
14. Metaphysical Realism and Logical Nonrealism: Panayot Butchvarov.
15. The Metaphysics of Possibilia: William Lycan.
16. The Actual and the Possible: Alexander Pruss.
Index.
Reviews
"If you want to find out what's going on at the leading edge of current metaphysics, there is no better place to look than this volume of new essays by some of the most original and productive minds now working in this field. The topics they discuss range far and wide, encompassing many central issues of metaphysics such as causation, time, the self, events, ontological categories, and the relation between physics and metaphysics. This book is not only a 'guide' to metaphysics but also includes substantial new contributions to the field." Jaegwon Kim, Brown University
Features


Presents a definitive introduction to the core areas of metaphysics


Contains 16 newly-commissioned articles, all of which are written by internationally distinguished scholars


Each chapter reviews a problem, examines the current state of the discipline with respect to the topic, and discusses possible futures of the field



Provides a solid foundation for further study