The Blackwell Guide to Social and Political Philosophy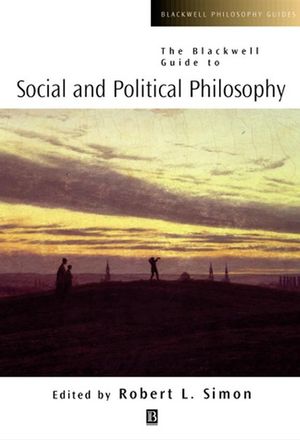 The Blackwell Guide to Social and Political Philosophy
ISBN: 978-0-470-75653-9 April 2008 Wiley-Blackwell 344 Pages
Description
The Blackwell Guide to Social and Political Philosophy brings together a collection of newly commissioned essays which examine fundamental issues in social and political theory. Written by leading social and political philosophers, each essay provides a map to the history of the issue at hand and a judicious assessment of the main arguments that have been brought to bear upon that issue.
Notes on Contributors.
Introduction: Social and Political Philosophy – Sorting Out the Issues: Robert L. Simon (Hamilton College).
Part I: Core Principles and the Liberal Democratic State:.
1. Political Obligation and Authority: A. John Simmons (University of Virginia).
2. Liberty, Coercion, and the Limits of the State: Alan Wertheimer (University of Vermont).
3. Justice: Christopher Heath Wellman (Georgia State University).
4. Equality: Richard J. Arneson (University of California at San Diego).
5. Preferences, Rationality, and Democratic Theory: Ann E. Cudd (University of Kansas).
Part II: Liberalism, Its Critics, and Alternative Approaches:.
6. Marx's Legacy: Richard W. Miller (Cornell University).
7. Feminism and Political Theory: Virginia Held (City University of New York Graduate School and Hunter College).
8. Liberalism and the Challenge of Communitarianism: James P. Sterba (University of Notre Dame).
9. Liberal Theories and Their Critics: William Nelson (University of Houston).
Part III: Pluralism, Diversity, and Deliberation:.
10. Deliberative Democracy: James S. Fishkin (University of Texas at Austin).
11. Citizenship and Pluralism: Daniel M. Weinstock (University of Montreal).
12. The New Enlightenment: Critical Reflections on the Political Significance of Race: A. Todd Franklin (Hamilton College).
13. Religion and Liberal Democracy: Christopher J. Eberle (Concordia University-River Forest).
Select Bibliography.
Index.
"Robert Simon has assembled a strong, well-organized collection. The volume's contributors are distinguished and the essays have been chosen to convey a balanced picture of the field."
George Sher, Rice University
"This superbly edited volume addresses central questions surrounding the liberal democratic theory of the state. Both the advocates of contemporary expressions of liberal democratic theory and critics of those formulations receive a fair hearing. Excellent discussions of the values of liberty, justice, equality, individual rights, and democratic choice are included as well as timely discussions of pluralism and the treatment of groups in democratic theory." Norman E. Bowie, University of Minnesota


Provides a state-of-the-art overview of key issues in social and political philosophy.


Contains newly commissioned essays by leading philosophers.


Includes a discussion of new issures raised by questions of diversity and pluralism within the democratic state.


Offers a sustained dialogue on the merits and detriments of liberal political theory.