The Blackwell Guide to Soul Recordings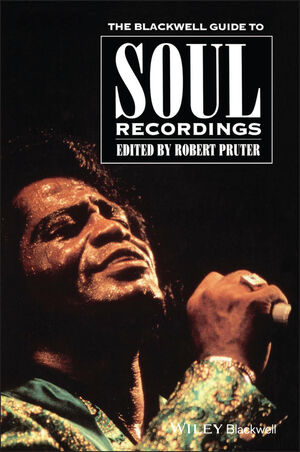 The Blackwell Guide to Soul Recordings
ISBN: 978-0-631-18595-6 August 1993 Wiley-Blackwell 464 Pages
Description
The first ever guide to soul recordings, this book - the latest in a popular and well-established series - is an essential purchase for anyone wishing to build up a comprehensive record collection.
Each chapter of the Guide provides an essential list of fifteen releases, and a basic list of thirty. The essential releases are those from artists most likely to be recognized by the general public - singers such as James Brown, Aretha Franklin, the Temptations, Marvin Gaye and Stevie Wonder - and they each get extended comments. The basic lists is designed to supplement this and cover some of the 'lesser' artists, and also the tangents and by-ways of the genre - Latin Soul, Low rider music and soul-blues.

In its 405 entries, the Guide covers not only music from the golden era of soul - the early 1960s to the mid-1970s - but also the 1950s rhythm and blues that preceded it, and the disco, funk and African American styles which followed.

Eight of the leading British and American experts have contributed to the guide, each concentrating on a particular aspect of soul music - whether it be an account of the music produced in a certain region (such as New York, Chicago, the West Coast, the South or Europe), or one of the periods of the style's development.
Discographical information.
Introduction.
1. Rhythm and Blues: Peter Grendysa.
2. New York and New Jersey: Wayne Jancik.
3. Philadelphia: Dan Nooger.
4. Detroit: Dan Nooger.
5. Chicago: Robert Pruter.
6. The South: Tennessee, Alabama, Georgia, Virginia, the Carolinas: Bill Dahl.
7. The South: Louisiana, Texas, Florida, Mississippi: Jeff Hannusch.
8. West Coast: Randal C. Hill.
9. Great Britain and the European Continent: Geoff Brown.
10. Funk and Later Trends: Geoff Brown.
Recommended reading.
Index.
"You can almost hear the old godfather James Brown moaning on the dust-cover: a must for music, public and funky academic libraries."
Reference Reviews
"A generally excellent bargain discography. Recommended for academic and public libraries." Library Journal
"This guide will give you all the information you require about Aretha and every other important rhythm and blues singer, from '50s groundbreakers like Little Richard, Roy Brown and the Five Royales to all the influential Motown artists and major stars like James Brown and Michael Jackson." Sunday News Journal
"An excellent core discography of some 400 soul music recordings... Recommended for academic, music, and large public libraries." Choice
"Eight top music writers provide an essential history of the genre and recommend a library of almost 400 LPs and CDs upon which they based this readable work." The Flint Journal
* The first ever guide to soul recordings.
* Covers recordings from all over the world.
* Includes less accessible, as well as more popular recordings.