The Blackwell Guide to the Philosophy of Law and Legal Theory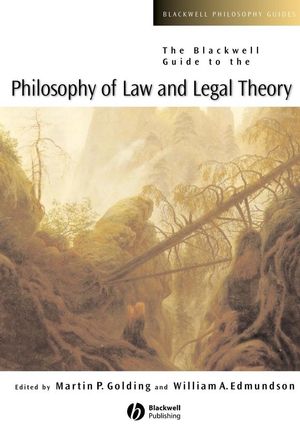 The Blackwell Guide to the Philosophy of Law and Legal Theory
ISBN: 978-0-631-22832-5
Nov 2004, Wiley-Blackwell
368 pages
Description
The Blackwell Guide to the Philosophy of Law and Legal Theory is a handy guide to the state of play in contemporary philosophy of law and legal theory.



Comprises 23 essays critical essays on the central themes and issues of the philosophy of law today, written by an international assembly of distinguished philosophers and legal theorists

Each essay incorporates essential background material on the history and logic of the topic, as well as advancing the arguments

Represents a wide variety of perspectives on current legal theory
Notes on Contributors.
Introduction: William A. Edmundson (Georgia State University).
Part I: Contending Schools of Thought:.
1. Legal Positivism: Brian H. Bix (University of Minnesota).
2. Natural Law Theory: Mark C. Murphy (Georgetown University.
3. American Legal Realism: Brian Leiter (University of Texas at Austin).
4. Economic Rationality in the Analysis of Legal Rules and Institutions: Lewis A. Kornhauser (New York University).
5. Critical Legal Theory: Mark V. Tushnet (Georgetown University).
6. Four Themes in Feminist Legal Theory: Difference, Dominance, Domesticity, and Denial: Patricia Smith (Baruch College and the Graduate Center, City University of New York).
Part II: Doctrinal Domains and Their Philosophical Foundations:.
7. Criminal Law Theory: Douglas Husak (Rutgers University).
8. Philosophy of Tort Law: Between the Banal and the Esoteric: Benjamin C. Zipursky (Fordham University).
9. Contract Theory: Eric Posner (University of Chicago).
10. The Commons and the Anticommons in the Law and Theory of Property: Stephen R. Munzer (University of California, Los Angeles).
11. Legal Evidence: Alvin I. Goldman (Rutgers University).
Part III: Perennial Topics:.
12. Obligation: Matthew H. Kramer (Cambridge University).
13. Theories of Rights: Alon Harel (University of Jerusalem).
14. A Contractarian Approach to Punishment: Claire Finklestein (University of Pennsylavania).
15. Responsibility: Martin P. Golding (Duke University).
16. Legislation: Jeremy J. Waldron (Columbia University).
17. Constitutionalism: Larry A. Alexander (University of San Diego).
18. Adjudication and Legal Reasoning: Richard Warner (Illinois Institute of Technology).
19. Privacy: William A. Edmundson (Georgia State University).
Part IV: Continental Perspectives:.
20. On Legal Positivism and Natural Law Theory: Jes Bjarup (Stockholm University).
21. Some Contemporary Trends in Continental Philosophy of Law: Guy Haarscher (Free University of Brussels).
Part V: Methodological Concerns:.
22. Objectivity: Nicos Stavropoulos (Oxford University).
23. Can There Be a Theory of Law?: Joseph Raz (Oxford University).
Index
"Golding and Edmundson have assembled many of the most luminous figures in legal theory to write deep and totally original essays on a variety of central jurisprudential topics. The authors are the right people writing on the right subjects, and this book is likely to become a standard source for many years to come."
Frederick Schauer, Harvard University

"In addition to offering excellent introductions to the central topics of legal philosophy, the articles in this volume are in their own right distinguished scholarly contributions to the field. Students and specialists alike will find the book to be of great interest."

Stephen Perry, New York University School of Law

"This is a Guide that actually guides. All the contributors provide excellent routemaps, sometimes across very tricky terrain. At the same time, many of the contributors open up new paths and new vistas. The result is a book that works at more than one level: accessible secondary literature for those just mastering the subject as well as challenging primary literature for those already steeped in it."

John Gardner, University of Oxford

"Convincing, lively, coherent, applied, unpretentious, even though within a predominantly western paradigm, this guide is real value for money. It is a guide not just to facts and ideas but also to method; in addition it will serve as a portal for collection managers to a wide range of must-haves for the library."

Stuart Hannabuss, Aberdeen Business School, Aberdeen
Written by a distinguished international assembly of scholars
Comprised of critical discussions of major topics in contemporary philosophy of law and legal theory

Represents a wide variety of perspectives on current legal theory