The Blackwell Guide to the Philosophy of the Social Sciences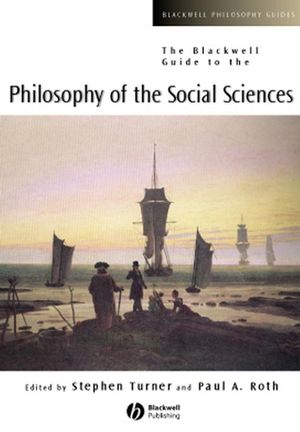 The Blackwell Guide to the Philosophy of the Social Sciences
ISBN: 978-0-631-21538-7 January 2003 Wiley-Blackwell 392 Pages
Description
The Blackwell Guide to the Philosophy of the Social Sciences collects newly commissioned essays that examine fundamental issues in the social sciences.
Notes on Contributors.
Introduction: Ghosts and the Machine: Issues of Agency, Rationality, and Scientific Methodology in Contemporary Philosophy of Social Science. (Stephen P. Turner and Paul A. Roth).
Part I: Pasts.
1. Cause, the Persistence of Teleology, and the Origins of the Philosophy of Social Science. (Stephen P. Turner).
2. Phenomenology and Social Inquiry: From Consciousness to Culture and Critique.( Brian Fay).
3. Twentieth-century Philosophy of Social Science in the Analytic Tradition. (Thomas Uebel).
Part II: Programs.:.
4. Critical Theory as Practical Knowledge: Participants, Observers and Critics. (James Bohman).
5. Decision Theory and Degree of Belief. (Piers Rawling).
6. The Methodology of Rational Choice. (Lars Udehn).
7. Mathematical Modeling in the Social Sciences. (Paul Humphreys).
8. The Practical Turn. (David Stern).
9. Science & Technology Studies and the Philosophy of Social Sciences. (Steve Fuller).
Part III: Problematics.
10. "See Also Literary Criticism": Social Science Between Fact and Figures. (Hans Kellner).
11. The Descent of Evolutionary Explanations: Darwinian Vestiges in the Social Sciences. (Lynn Hankinson Nelson).
12. How Standpoint Methodology Informs Philosophy of Social Science. (Sandra Harding).
13. Beyond Understanding: The Career of the Concept of Understanding in the Human Sciences. (Paul A. Roth).
Bibliography.
Index.
'This is a guide in the best possible sense. It provides an historical as well as a thematic framework for appraising the debates that have shaped philosophy of social science since the nineteenth century, rooting it firmly both in philosophical traditions of thought about science and the social, and in the empirical and theoretical problems of abiding concern to social scientists. In the process the contributors effectively redefine this hybrid inter-field and show what is to be gained by serious cross-disciplinary engagement.'
Alison Wylie, Washington University in St. Louis
<!--end-->
'This first-rate volume is truly a state-of-the-art guide to a range of lively and fundamental issues and debates that are ever more central to both philosophy and the social sciences today. In coherently organized chapters the issues are lucidly and accessibly explained and the debates are engaged and frequently carried further.' Steven Lukes, New York University and London School of Economics


Breaks new ground by including key new areas of inquiry in the social sciences: cognitive science, feminist philosophy, evolutionary accounts of social life, rational choice theory, and causal modeling.


Presents a state-of-the-art guide to the hottest philosophical issues in the social sciences.


Written by an international assembly of contributors.