The Blackwell History of the Latin Language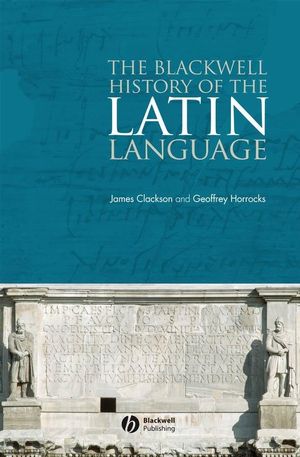 The Blackwell History of the Latin Language
ISBN: 978-1-405-16209-8 November 2007 Wiley-Blackwell 336 Pages
Description
This text makes use of contemporary work in linguistics to provide up-to-date commentary on the development of Latin, from its prehistoric origins in the Indo-European language family, through the earliest texts, to the creation of the Classical Language of Cicero and Vergil, and examines the impact of the spread of spoken Latin through the Roman Empire.



The first book in English in more than 50 years to provide comprehensive coverage of the history of the Latin language

Gives a full account of the transformation of the language in the context of the rise and fall of Ancient Rome

Presents up-to-date commentary on the key linguistic issues

Makes use of carefully selected texts, many of which have only recently come to light

Includes maps and glossary as well as fully translated and annotated sample texts that illustrate the different stages of the language

Accessible to readers without a formal knowledge of Latin or linguistics
Preface.
1 Latin and Indo-European.
2 The Languages of Italy.
3 The Background to Standardization.
4 'Old' Latin and its Varieties in the Period c.400--150 BC.
5 The Road to Standardization: Roman Latin of the Third and Second Centuries BC.
6 Elite Latin in the Late Republic and Early Empire.
7 Sub-Elite Latin in the Empire.
8 Latin in Late Antiquity and Beyond.
Glossary.
Appendix: The International Phonetic Alphabet.
Bibliography of Reference and Other Works.
Index
"The stated goal of this welcome new survey is to overcome some of the shortcomings of L. R. Palmer's classic handbook
The Latin Language
, unrevised since its publication in 1954. The goal is worthy, and the execution is in many ways a success." (
Bryn Mawr Classical Review
, March 2009)
"Clackson and Horrocks have produced a wide-ranging, theoretically sophisticated, and still thoroughly manageable book that will not easily be superseded." (New England Classical Journal, February 2009)
"James Clackson and Geoffrey Horrocks have … Succeeded admirably in their aim, presenting a mass of data within persuasive narrative." (Times Literary Supplement, December 2008)
"The…hefty Blackwell History of the Latin Language…The authors focus on the evolution of the sounds, vocabulary, word and sentence structure…over the centuries." (Chicago Tribune)
"[The authors] set the tone … with an honesty that is … appreciated … .Marvelous treatment of … understudied languages … .Carefully, admirably, proofread … .Recommended." (Choice)


The first book in English in more than 50 years to provide comprehensive coverage of the history of the Latin language

Gives a full account of the transformation of the language in the context of the rise and fall of Ancient Rome

Presents up-to-date commentary on the key linguistic issues

Makes use of carefully selected texts, many of which have only recently come to light

Includes maps and glossary as well as fully translated and annotated sample texts that illustrate the different stages of the language

Accessible to readers without a formal knowledge of Latin or linguistics