The Blanchot Reader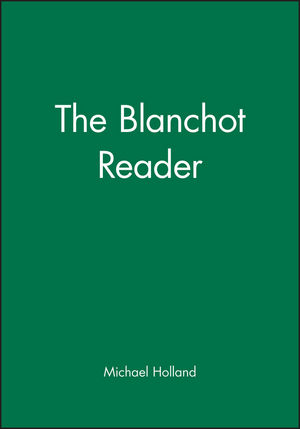 The Blanchot Reader
ISBN: 978-0-631-19084-4 October 1995 Wiley-Blackwell 340 Pages
Description
Maurice Blanchot remains a writer whose work, though often cited, is little-known to the English-speaking reader.
In The Blanchot Reader Michael Holland answers that urgent need and does so in a way that provides a coherent perspective on what by any standard is an extraordinary personal and intellectual career.
Preface.Acknowledgements. Introduction. Part I: How is Literature Possible?:. 1. The Silence of Writers (1941).2. The Search for Tradition (1941).3. The Beginnings of the Novel (1938). 4. The Recent Novel (1941). 5. The Pure Novel (1943).6. Mallarme and the Art of the Novel (1943). 7. How is Literature Possible?(1943).8. The Novel is a Work of Bad Faith (1947).9. Sade's Reason (1947). Part II: The Turning-Point: .10. Madness par excellence (1951). 11. Artaud (1956) . 13. The Pursuit of the Zero Point (1953).14. The Death of the Last Writer (1955).15. The Great Hoax (1958). 16. Essential Perversion (1958).17. On a Change of Epoch (1960). Part III: Our Responsibility:. 18. The Right to Insubordination (1960).19. Disorderly Words (1968).20. Intellectuals under Scrutiny (1984). 21. The Indestructible (i) Being Jewish (1962), (ii) Humankind (1962).22.'Do Not Forget' (1986). Part IV: The Step Beyond:. 23. The Name Berlin (1961). 24. The Conquest of Space (1961). 25. Waiting (1959).26. The Exigency of Return (1969). 27. The Exigency of Return (1970). 28. Oh All To End (1990). 29. The Ease of Dying (1969).30. Thanks (Be Given) to Jacques Derrida (1990). Blanchot in English by Peter C. Hoy.Index.
* This book provides the only comprehensive introduction to date.
* The reader covers Blanchot's work on fiction, criticism, politics and philosophy.