The Book of Entrepreneurs' Wisdom: Classic Writings by Legendary Entrepreneurs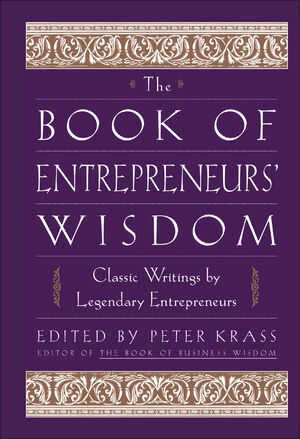 The Book of Entrepreneurs' Wisdom: Classic Writings by Legendary Entrepreneurs
ISBN: 978-0-471-34509-1 September 1999 514 Pages
Download Product Flyer
Download Product Flyer
Download Product Flyer is to download PDF in new tab. This is a dummy description. Download Product Flyer is to download PDF in new tab. This is a dummy description. Download Product Flyer is to download PDF in new tab. This is a dummy description. Download Product Flyer is to download PDF in new tab. This is a dummy description.
Description
Praise for The Book of Entrepreneurs' Wisdom "A great tool, not just for entrepreneurs,but for anyone trying to improve their business skills. It sure would have been nice to have had this book twenty-three years ago!" -Jim McCann, President, 1-800-Flowers Pearls from The Book of Entrepreneurs Wisdom "The secret to success: Plunge into the uncomfortable, push, or be lucky enough to have someone push you, beyond your fears and your sense of limitations." -Barry Diller "I sometimes feel like I'm behind the wheel of a racecar. I need to keep my eyes on the horizon, but I also need to keep my attention on the rear-view mirror to see who's gaining on me." -Steve Case "A business which starts off quickly, makes money at once, and seems to be in every respect a gold mine, often does not last long." -Harvey Firestone "Did I want to risk an embarrassing and costly failure? Absolutely." -Michael Bloomberg
Table of contents
THE START-UP.

Michael Bloomberg: I Love Mondays.

Harvey S. Firestone: Starting the Company.

Andy Kessler: Go Ahead-Jump!

Kim Polese: A Tech Dream Comes True.

Norm Brodsky: The Three Criteria for a Successful New Business.

Doris Drucker: Mrs. Drucker Starts a Business.

THE MAVERICK ELEMENT AND OTHER QUALITIES.

Warren Avis: Are You a Gunslinger?

Barry Diller: The Discomfort Zone.

Wally Amos: The Power in Commitment.

Andrew Carnegie: The Crucial Question.

Lillian Vernon: The Successful Entrepreneur's Toolkit.

Mark H. McCormack: For Entrepreneurs Only.

VENTURE CAPITAL, LBOS, AND GOING PUBLIC.

Tom Monaghan: Bankers Are the Keepers of the Keys.

Conrad Hilton: A Million-Dollar Mountain and a Red Hat.

Irene Smith: Money: The Truth about Financing a Growing Small Business.

Arthur Rock: Strategy versus Tactics from a Venture Capitalist.

Henry R. Kravis: LBOs Can Help Restore America's Competitive Edge.

An Wang: Going Public.

RISK AND STRATEGY.

Richard Branson: Risk Taking.

Scott McNealy: A Winning Business Model for the 1990s.

Simon Ramo: The Technique of Anticipation.

Dave Thomas: The Secrets of Sniffing Around.

J. C. Penney: Why a Buyer's Market Hasn't Changed Our Plans.

Victor Kiam: Remington's Marketing and Manufacturing Strategies.

Franklin A. Seiberling: Buying or Selling -
Which Counts Most?

Steve Case: Ten Commandments for Building the Medium.

INVENTORS TURNED ENTREPRENEURS.

Henry Ford: How I Made a Success of My Business.

Steven P. Jobs: When We Invented the Personal Computer...

George Eastman: Make the Camera as Convenient as the Pencil.

Edwin H. Land: In the Creator's Mind.

Nolan Bushnell: To Win the Business Game, Do What You Know.

Benjamin Franklin: Advice to a Young Tradesman.

Clarence Birdseye: If I Were Twenty-One.

BRANDING, IMAGE, AND SELLING.

Howard M. Schultz: The Best Way to Build a Brand.

Colonel Harland Sanders: The Making of a Colonel.

Akio Morita: Moving Up in Marketing by Getting Down to Basics.

Marquis M. Converse: My Test of Good Management.

John H. Johnson: Breaking Through the Ad Barrier.

Michael S. Dell: Service Sells.

Al Neuharth: Showmanship and Salesmanship.

P. T. Barnum: The American Museum.

ENTREPRENEURIAL MANAGEMENT.

Alfred C. Fuller: The Need for Controls.

Debbi Fields: My Style.

H. Ross Perot: Change Is Fun.

Philip Knight: Global Manufacturing: The Nike Story Is Just Good Business.

Anita Roddick: Four-Letter Words!

Anita F. Brattina: The Diary of a Small Business Owner.

Thomas J. Watson: To Make a Business Grow -
Begin Growing Men.

PERSONAL STORIES.

Herman W. Lay: Your Own Business.

Ben Cohen and Jerry Greenfield: Bagels, Ice Cream, or...Pizza?

Joseph C. Wilson: The Product Nobody Wanted.

Kenneth H. Olsen: Digital Equipment Corporation: The First Twenty-Five Years.

Samuel Goldwyn: You Can Always Do Better.

Acknowledgments.

Notes.

Credits and Sources.

Chronology.

Author Index.

Companies Founded, Cofounded, Or Managed by Authors.

Index.
Reviews
"This is classical and fascinating material that should be widely read by aspiring (and practising) entrepreneurs." (Long Range Planning, Vol 35, 2000)