The Book of Investing Wisdom: Classic Writings by Great Stock-Pickers and Legends of Wall Street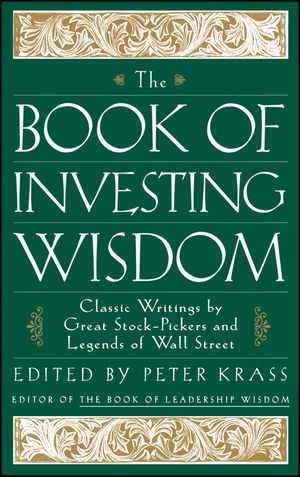 The Book of Investing Wisdom: Classic Writings by Great Stock-Pickers and Legends of Wall Street
ISBN: 978-0-471-29454-2
Mar 1999
498 pages
Description
Charles H. Dow, Benjamin Graham, George Soros, Peter Lynch, Warren Buffett, Mario Gabelli, and Donald Trump. You won't find a seminar or lecture anywhere that boasts a panel quite like this-a group of the great stock-pickers and market gurus, both past and present, brought together to instruct you on the art of investing. The Book of Investing Wisdom offers you a unique insight into how these professionals and many others achieved financial success through intelligent investing-all from the comfort of your armchair. Never before have the writings of such a large and diverse group of brilliant investors been collected between the covers of a single book.

The Book of Investing Wisdom is an anthology of 46 essays and speeches from the most successful, well-known investors and financiers of our time. In their own words, these legends of Wall Street share their best investment ideas and advice. You'll hear from Bernard Baruch on stock market slumps, Peter Bernstein on investing for the long term, Joseph E. Granville on market movements, John Moody on investment vs. speculation, Otto Kahn on the New York Stock Exchange and public opinion, William Peter Hamilton on the Dow theory, and Leo Melamed on the art of futures trading, to name just a few.

For easy reference, the 46 essays featured in The Book of Investing Wisdom are organized into eight categories, covering the nuts and bolts of analysis, investing attitude and philosophy, investing strategies, market cycles, views from the inside, lessons from notorious characters, insights from the Great Crashes, and advice beyond your average blue chip. Each essay is preceded by a brief introduction that provides intriguing and insightful background information about its author's life and career, and places the essay in historical perspective. Significant statements, inspiring thoughts, and even quirky bits of wisdom have been highlighted throughout the book to call attention to each contributor's most memorable ideas.

Offering practical advice, strategic wisdom, and intriguing history, The Book of Investing Wisdom will inspire and motivate everyone from the professional money manager to the do-it-yourself investor to the business student.

PETER KRASS is a freelance writer and editor living in Connecticut. He contributes regularly to Investor's Business Daily. His other books include The Book of Leadership Wisdom: Classic Writings by Legendary Business Leaders and The Book of Business Wisdom: Class Writings by the Legends of Commerce and Industry, also available from Wiley.
THE NUTS AND BOLTS OF ANALYSIS.

Warren E. Buffett: Track Record Is Everything.

Philip Fisher: The People Factor.

Henry Clews: The Study of the Stock Market.

Arnold Bernhard: The Valuation of Listed Stocks.

Paul F. Miller, Jr.: The Dangers of Retrospective Myopia.

Jim Rogers: Get Smart...and Make a Fortune.

Peter Lynch: Stalking the Tenbagger.

ATTITUDE AND PHILOSOPHY.

Adam Smith: Can Ink Blots Tell You...

Ellen Douglas Williamson: Do-It-Yourself Investing.

John Moody: Investment versus Speculation.

John C. Bogle: A Mandate for Fund Shareholders.

B. C. Forbes: Wall Street Millionaires.

Fred Schwed, Jr.: The Wall Street Dream Market.

STRATEGY.

Edward C. Johnson, II: Contrary Opinion in Stock Market Techniques.

Peter L. Bernstein: Is Investing for the Long Term Theory or Just Mumbo-Jumbo?

Sir John Templeton: The Time-Tested Maxims of the Templeton Touch.

Mario Gabelli: Grand Slam Hitting.

Gerald M. Loeb: Importance of Correct Timing.

Philip Carret: When Speculation Becomes Investment.

MARKET CYCLES.

Charles H. Dow: Booms and Busts.

William Peter Hamilton: The Dow Theory.

Roger W. Babson: Three Different Stock Market Movements.

Bernard M. Baruch: Does a Stock Market Slump Mean a Business Slide-Off?

Abby Joseph Cohen: A Fundamental Strength.

Joseph E. Granville: Market Movements.

Arthur Crump: The Importance of Special Knowledge.

Robert R. Prechter: Elvis, Frankenstein and Andy Warhol.

VIEWS FROM THE INSIDE.

W. W. Fowler: The Stock Exchange.

Edward H. H. Simmons: The Stock Exchange as a Stabilizing Factor in American Business.

Otto Kahn: The New York Stock Exchange and Public Opinion.

Charles E. Merrill and E. A. Pierce: A Declaration of Policy.

Micheal H. Steinhardt: Investing, Hedge-Fund Style.

Laura Pedersen: The Last Frontier.

LESSONS FROM NOTORIOUS CHARACTERS.

Bouck White: Daniel Drew on Wall Street.

Richard Whitney: In Defense of the Stock Exchange.

T. Boone Pickens, Jr.: Professions of a Short-Termer.

James Grant: Michael Milken, Meet Sewell Avery.

CRASH AND LEARN.

Frank A. Vanderlip: The Haunting Specter (1907).

Edwin Lefèvre: Vanished Billions (1929).

J. Paul Getty: The Wall Street Investor (1962).

George Soros: After Black Monday (1987).

BEYOND YOUR AVERAGE BLUE CHIP.

Leo Melamed: The Art of Futures Trading.

Stanley Kroll: How to Win Big and Lose Small.

Benjamin Graham: The Art of Hedging.

Martin E. Zweig: Selling Short-It's Not Un-American.

Donald J. Trump: Trump Cards: The Elements of the Deal.

Acknowledgments.

Notes.
Editor of The Book of Leadership Wisdom ""A great patients' drug is one that cures an affliction once and for all, but a great investor's drug is one that the patient has to keep buying."" -PETER LYNCH

""Those who invest well have an innate ability to distill abundant, raw information into the scarce commodity of wisdom. Here's how some of the best have done it down through the years."" -David H. Komansky, Chairman and CEO, Merrill Lynch & Co., Inc.

""I personally knew moderately all the characters except Charles Dow. Any opportunity to learn more from such people is an opportunity that should not be missed."" -Roy R. Neuberger, [his job title TK], Neuberger Berman Inc., and author of So Far, So Good: The First 94 years