The Book of Revelation For Dummies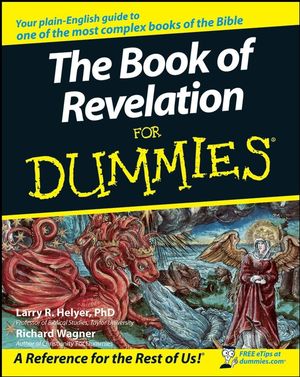 The Book of Revelation For Dummies
ISBN: 978-0-470-04521-3
Apr 2008
360 pages
Description
Are you baffled by the Book of Revelation? Understand the purpose, key themes, and symbolism of the most fascinating book in the Bible with The Book of Revelation For Dummies, an easy-to-understand guide that will help you grasp the enduring messages of Revelation and apply them to your life. You will understand what Revelation says about the past, present, and future, and how it relates to the rest of the Bible.

You will learn how this mysterious book of the Bible fits into a historical context. You'll discover all kinds of interesting facts about the apostle John and learn about the details of his world. You will be able to choose a perspective for interpreting this book of the Bible and decipher the many haunting symbols. There is no need to read this reference guide from cover to cover; simply browse the table of contents or flip through the pages to find the answers and assistance that you need. Discover how to:
Interpret the prophecy of the Revelation
Place it in historical context
Understand how it relates to other books in the Bible
Unravel the details of the apostle John's life and world
Choose a perspective for understanding
See the grander scheme of things
Complete with lists of the ten most commonly asked questions about end times and the ten rules of thumb for interpreting scripture, The Book of Revelation For Dummies will help you understand and decode one of the most perplexing books in the Bible!
Introduction.
Part I: Revealing the End of the Biblical Story.
Chapter 1: One Man's Visions, All Humans' Fate.
Chapter 2: Setting the Stage: The Apostle John and the World in Which He Lived.
Chapter 3: The Prequels: Prophecies throughout the Bible.
Part II: Interpreting the Book of Revelation.
Chapter 4: Choosing a Perspective for Understanding Revelation.
Chapter 5: Deciphering Symbols with Your Secret Decoder Ring.
Part III: Taking a Grand Tour of the Book of Revelation.
Chapter 6: Setting Up the Scope of the Book (1:1–20).
Chapter 7: Reading the Seven Letters to Conflicted Churches (1:19–3:22).
Chapter 8: Peeking into the Throne Room (4:1–5:14).
Chapter 9: Breaking Seven Seals (6:1–8:1).
Chapter 10: Sounding Seven Trumpets (8:2–11:19).
Chapter 11: A Woman, a Dragon, Two Beasts, and More! (12:1–14:20).
Chapter 12: Seven Angels, Seven Bowls, and a Final Smackdown (15:1–18:24).
Chapter 13: Coming of the Kingdom (19:1–20:15).
Chapter 14: Seeing the New Jerusalem and a Triumphant Church (21:1–22:6).
Chapter 15: Promising to Return (22:6–21).
Part IV: The Part of Tens.
Chapter 16: Ten Common Questions about the End Times.
Chapter 17: Ten Tips for Interpreting Scripture and Prophecy.
Appendix: Glossary.
Index.