The Book of Yields: Accuracy in Food Costing and Purchasing, 8th Edition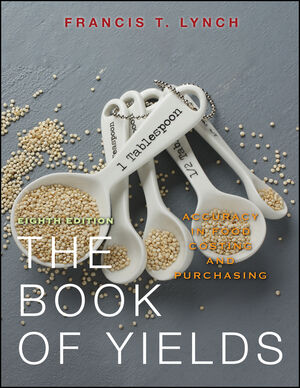 The Book of Yields: Accuracy in Food Costing and Purchasing, 8th Edition
ISBN: 978-0-470-59796-5
Sep 2010
320 pages
Description
The Book of Yields: Accuracy in Food Costing and Purchasing now in its eighth edition is a chef's best resource for planning and preparing food more quickly and accurately. It is the foodservice manager's most powerful tool for controlling costs. This new edition combines yield information with information on wholesale food prices, worksheets for costing ingredients, and worksheets for planning food purchases. It is constructed with a durable comb binding that allows it to lay flat while readers work in the kitchen.  This hands-on reference provides a substantial collection of accurate food measurements for more than 1,400 raw food ingredients. Measurements are given in weight-to-volume equivalents, trim yields, and cooking yields. Completely up to date with helpful information relating to new food trends, The Book of Yields, Eighth Edition will be the best the tool in your kitchen.
PART I.
Chapter 1: Dry Herbs and Spices and Fresh Herbs.
Chapter 2: Produce.
Chapter 3: Starchy Food.
Chapter 4: Baking Items.
Chapter 5: Fats, Oils, and Condiments.
Chapter 6: Liquids.
Chapter 7: Dairy.
Chapter 8: Beverages.
Chapter 9: Meats.
Chapter 10: Seafood.
Chapter 11: Poultry.
Chapter 12: The Proper Use Of Cans, Scoops, Hotel Pans, and Sheet Trays In Costing.
Chapter 13: Measurement Conversion.
Chapter 14: Simple Formulas.
Chapter 15: Standard Portion Sizes.
PART II.
The Workbook.
Price Lists.
Costing Worksheet.
Guide to Using the Costing Worksheets.
Purchasing Worksheet.
Guide to Using the Purchasing Worksheets.
Overview.
NEW INGREDIENTS include 52 new vegetables, 24 new herbs and spices, 47 new fruits, 35 new starches (including 23 new pastas)
Only product on market that provides yield information for more than 1,250 raw food ingredients