The Boston Institute of Finance Mutual Fund Advisor Course: Series 6 and Series 63 Test Prep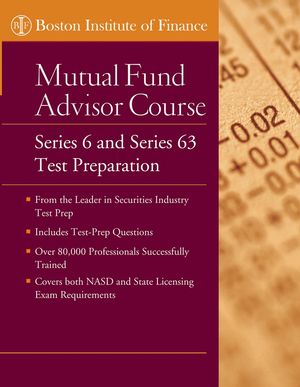 The Boston Institute of Finance Mutual Fund Advisor Course: Series 6 and Series 63 Test Prep
ISBN: 978-0-471-71234-3
May 2005
200 pages
Description
Access the industry?s premier print study guide and the industry?s premier online test-prep materials with this unique package. The study guide consists of seven chapters, which parallel the content of the exams. Each chapter includes review questions and provides the core knowledge necessary to pass the exams. The associated test-prep Web course provides sample test questions and tips that will help you get a better feel for the actual exams.

Filled with in-depth insight and expert guidance, you won?t need anything else to pass the Series 6 and Series 63 exams. Order your copy today.
Preface.
Series 6 Test Preparation.
Introduction.
1. Investment Securities.
Introduction.
Money and Capital Markets.
Common Stock.
Yield on Common Stock.
Preferred Stock.
Corporate Bonds.
Other Types of Corporate Bonds.
Convertible Bonds.
Zero Coupon Bonds.
Order of Payment-Corporate Liquidation.
Interest rate Risk.
Yields.
Rights.
Warrants.
Collateralized Mortgage Obligations (CMO's).
Interest Rates and Bond Concepts.
U.S. Government Securities.
Municipal Bonds.
Money Market Instruments.
Bankers' Acceptances.
Commercial Paper.
Negotiable Certificates of Deposit.
Inter-Bank Market for Foreign Currencies.
Eurodollar Bonds.
Additional Concepts.
2. Securities Markets.
Introduction.
Types of Investment Risk.
Economic Factors.
Suitability and Risk Factors.
3. Open‑End Investment Companies.
Introduction.
Types of Funds.
Classes of Shares.
Mutual Fund Accounts.
Distributions by Funds.
Taxation of Mutual Funds.
Mutual Fund Expenses.
Review Concepts.
Comparison ‑ Open‑End vs. Closed‑End Funds.
Important Points.
Additional Concepts ‑ Investment Companies.
4. Regulation of Investment Companies
Face Amount Certificate Companies.
Sales Charges.
Breakpoints.
Rights of Accumulation.
Advertising by Funds.
Mutual Fund Sales Literature.
Dollar Cost Averaging.
NASD Rules Concerning Investment Companies.
Mutual Fund Sales by Banks.
Additional Concepts ‑ Investment Company Regulations.
5. Variable Annuities and Retirement Plans.
Introduction.
Fixed Annuities.
Variable Annuities.
Additional Concepts ‑ Variable Annuities.
Variable Life Insurance.
Main Points ‑ Variable Life Insurance Contracts.
Employee Retirement Income Security Act of 1974 (ERISA).
Keogh Plans.
Individual Retirement Accounts.
Simplified Employee Pension Plan (SEP).
Pension and Profit Sharing Plans.
401(k) Plans.
403‑B Plans.
6. NASD Rules and Regulations.
Certificate of Incorporation.
By‑Laws of the NASD.
Advertising Rules.
Broker/Dealers.
Recommendations Made to Customers.
Private Securities Transactions.
Prompt Receipt and Delivery of Securities.
Proxy Material.
NASD Hot Issue Rules.
Charges for Services.
Confirmations.
Discretionary Accounts.
Dealing with Non‑Members.
Other Provisions of NASD Rules.
NASD Code of Procedure.
Uniform Practice Code.
Confirmations or Comparisons.
Good Delivery of Securities.
Trade Date and Settlement Date.
Investment Companies and NASD Rules of Fair Practice.
7. Federal and State Regulations.
The Securities Act of 1933.
Exempted Securities Under the 1933 Act.
Red Herring Prospectus.
Final Prospectus.
Effective Date of Registration Statement.
Liabilities Under the 1933 Act.
The Securities Exchange Act of 1934.
Insider Transactions.
Market Manipulation.
Securities Investor Protection Act of 1970.
State Securities Laws.
Uniform Gifts/Transfer to Minors Act.
Glossary.
Series 6 Final Exam.
Additional Practice Questions 1, 2 and 3.
Series 63 Test Prep.
Series 63 Questions and Answer Explanations.
Index.