The Bounds of Cognition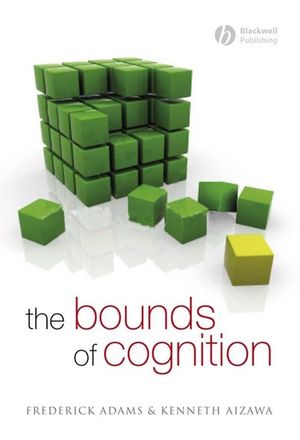 The Bounds of Cognition
ISBN: 978-1-405-14914-3
Jan 2008
216 pages
Description
An alarming number of philosophers and cognitive scientists have argued that mind extends beyond the brain and body. This book evaluates these arguments and suggests that, typically, it does not.

A timely and relevant study that exposes the need to develop a more sophisticated theory of cognition, while pointing to a bold new direction in exploring the nature of cognition

Articulates and defends the "mark of the cognitive", a common sense theory used to distinguish between cognitive and non-cognitive processes

Challenges the current popularity of extended cognition theory through critical analysis and by pointing out fallacies and shortcoming in the literature

Stimulates discussions that will advance debate about the nature of cognition in the cognitive sciences
Preface.
Acknowledgments.
1 Introduction.
2 Refining the Issues.
2.1 What are the Boundaries?
2.2 What is Cognition?
2.3 The Possibility of Extended Cognition.
2.4 Conclusion.
3 Original Content.
3.1 Part of the Mark of the Cognitive: Non-Derived Content.
3.2 The Basics on Derived and Underived Content.
3.3 Dennett's Critique of Original Content.
3.4 Clark's Critique of Original Content.
3.5 Anti-Representationalism in Dynamical Systems and Mobile Robotics.
3.6 Conclusion.
4 Cognitive Processes.
4.1 Individuating Process Types in Science.
4.2 Individuating Processes in Cognitive Psychology.
4.3 A Broader Category of Cognition.
4.4 Conclusion.
5 The Mark of the Cognitive, Extended Cognition Style.
5.1 Cognition as Information Processing, as Computation, and as Abiding in the Meaningful.
5.2 Operationalism.
5.3 Is This Merely a Terminological Issue?
5.4 Conclusion.
6 The Coupling-Constitution Fallacy.
6.1 Some Examples of the Coupling-Constitution Fallacy.
6.2 Replies to the Coupling-Constitution Fallacy.
6.3 Conclusion.
7 Extended Cognitive Systems and Extended Cognitive Processes.
7.1 Dynamical Systems Theory and Coupling.
7.2 Haugeland's Theory of Systems and the Coupling of Components.
7.3 Clark's Theories of Systems and Coupling.
7.4 Conclusion.
8 Cognitive Equivalence, Complementarity, and Evolution.
8.1 Cognitive Equivalence.
8.2 The Complementarity Argument.
8.3 Evolutionary Arguments.
8.4 Conclusion: The Importance of the Mark of the Cognitive.
9 Inference to the Best Explanation and Extended Cognition.
9.1 What is the Theory of Enactive Perception?
9.2 Noë's Evidence for Enactive Perception.
9.3 The Case against Enactive Perception: Paralysis.
9.4 Conclusion.
10 Future Directions.
Bibliography.
Index.
"Where is human cognition located? Is human cognitive processing literally constituted (at least partly) by non-neural portions of the environment? The contemporary debate about extended cognition and the extended mind focuses on these questions, among others. Frederick Adams and Kenneth Aizawa's new book, The Bounds of Cognition (BC), contributes wonderfully to this debate. The book is critical of the extended approach; but Adams and Aizawa (A&A) also work toward a positive view, one that allows, in principle, for extended cognition, while yielding very little of it when fed the empirical facts."(
Philosophical Psychology,
November 2010)
"
The Bounds of Cognition
is the most thorough-going, forceful, and compelling critique of EMH so far." (
Erkenntnis
, September 2009)
"[This book] is without question a worthy and timely challenge to extended cognition, as well as to areas in related enterprises such as embodied cognition, situated cognition, dynamical systems theory and artificial life.... I recommend the book highly to anyone interested in these issues." (Phenomenology and the Cognitive Sciences, June 2009)
"This is a well written, well argued book. Written by philosophers mainly for philosophers.... It makes a serious contribution to the extended cognition debate that anyone with a serious interest in the issue needs to study." (Journal of Consciousness Studies, January 2009)
"Advocates of EMT must undoubtedly examine the arguments and criticisms that Adams and Aizawa offer in careful detail, because The Bounds of Cognition is the most forceful and most convincing criticism of their position so far." (Metapsychology, October 2008) 

"The [authors] wrote this book as a reasoned challenge … .[It] offers an excellent overview of the promise, limits, and problems of bounded cognition. Recommended." (Choice)


A timely and relevant study that exposes the need to develop a more sophisticated theory of cognition, while pointing to a bold new direction in exploring the nature of cognition


Articulates and defends the "mark of the cognitive", a common sense theory used to distinguish between cognitive and non-cognitive processes


Challenges the current popularity of extended cognition theory through critical analysis and by pointing out fallacies and shortcoming in the literature


Stimulates discussions that will advance debate about the nature of cognition in the cognitive sciences