The British Economy Since 1945: Economic Policy and Performance 1945 - 1995, 2nd Edition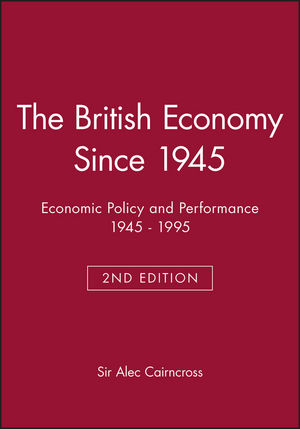 The British Economy Since 1945: Economic Policy and Performance 1945 - 1995, 2nd Edition
ISBN: 978-0-631-19961-8
Dec 1995, Wiley-Blackwell
376 pages
Description
In this fully revised and updated second edition, Sir Alec Cairncross provides a lucid overview and analysis of British economic policy and performance from 1945 to the present. The author takes a chronological approach, introducing the events of the period with an account of changing ideas on economic policy and performance. He concludes with a survey of major developments over the period.
List of Figures.
List of Tables.
General Editor's Preface.
Preface to the Second Edition.
Preface to the First Edition.
Acknowledgements.
1. Changing Ideas on Policy and Performance.
2. Reconversion, 1945-1950.
3. The 1950s.
4. The 1960s.
5. The 1970s.
6. The 1980s.
7. Epilogue: The Early 1990s.
8. Half a Century in Retrospect, 1945-95.
Appendix 1: Main Economic Events.
Appendix 2: Key Figures in Economic Policy, 1945-95.
Appendix 3: Definitions of Money.
Bibliography.
Index.
* Fully updated to take account of events up to 1995.
* Makes complex information easily accessible to the student and general reader.
* Author is an internationally-known authority in the field.