The British State Since 1945: An Introduction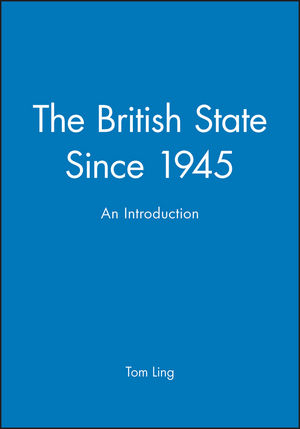 The British State Since 1945: An Introduction
ISBN: 978-0-745-61140-2 March 1998 Polity 288 Pages
Description
This volume identifies the main changes in the British state since 1945 and evaluates their consequences. It provides students and practitioners with an understanding of the changing public sector and the relationship between these changes and the wider conduct of politics.


Recent academic and political responses to the British state have been influenced by an atmosphere which is increasingly suspicious of hierarchies, bureaucracies and, indeed, the state itself. Tom Ling identifies the factors leading to this development and in the final chapter he evaluates the more important recent responses to the changed atmosphere.


The British State Since 1945 will be widely read by students and practitioners of British politics and public sector change. Its concern with policy-making and policy-implementation also makes it a valuable resource for students of social welfare and economic interventions. Through its evaluation and application of a variety of theoretical and analytical approaches to the question of the British State, this book will also be of interest to everyone concerned with more theoretical debates about the nature of the state and contemporary politics.
List of Figures and Tables.
Introduction.
1. State Management and the Post-war Settlement.
2. State Management and Economic Policy from the 1940s to the 1970s.
3. Managing the British Welfare State.
4. Professional Interests and the British Welfare State.
5. The Emergence of 'New Managerialist' approaches towards the Civil Service in the Transition to Thatcherism.
6. The New Technologies of State Management.
7. Two Case Studies of the Changing British State: Youth Training and the Instruments of Urban Intervention.
8. The British State: Interpretations and Prospects.
Bibliography.
General Index.
Author Index.
"Combining case studies, general historical and institutional analysis and a sustained theoretical commentary, this book provides an excellent analysis of the postwar British state. It is an original and accessible study demonstrating how one really can "bring the state back in" to postwar economic, social and political analysis. This book should find a ready place on the reading lists of all those concerned with the development of the British state and postwar British politics."
Bob Jessop, University of Lancaster
"A useful introduction ... The author combines a coherent conceptual overview with a careful exposition of such key issues as managerialsim, professionalism, and the rise of the 'new public management'. The book is to be recommended to an undergraduate audience." Political Studies
* Major new textbook on the British State.
* Analyzes major changes in the British State since 1945, mapping the changing organization and structure of the public sector, and the changing patterns of political representation.
* Offers a clear guide to current debates in British politics, theoretical and practical; it will be an invaluable source for students of politics, political economy and social welfare.