The Brutal Truth About Asian Branding: And How to Break the Vicious Cycle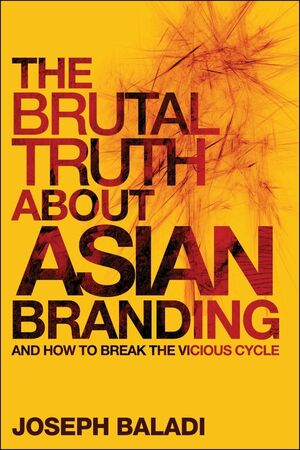 The Brutal Truth About Asian Branding: And How to Break the Vicious Cycle
ISBN: 978-0-470-82650-8
Feb 2011
288 pages
Description
This is one of the most thoughtful books on branding I've come across. Most such books are either quickly-crafted "how-to" books or academic tomes over-burdened with references. This book is thoughtful because it raises questions which deal with the "why" rather than just "how" of branding. The reference to brutal truth as the truth which will set us free—to examine ourselves without self-illusions—is liberating. The notion that Asia has many good, but no great brands, is also not a put-down but a clarion call for Asian CEOs to rise to the challenge and create lasting, meaningful, committed brands.
Ho Kwon Ping
Chairman/CEO, Banyan Tree and Board of Trustees, SMU
2010 recipient of the "Lifetime Achievement Award" by the American Creativity Association

A cold shower to wake people up. Joe Baladi's Brand Blueprint is a great tool for anyone involved in Sovereign Relationship Marketing or brand building anywhere.
Timothy Love
Vice Chairman
Chief Executive Officer, Omnicom APIMA

There are many books about branding but few address Asian companies directly. Joe Baladi has been one of the loudest voices to advocate strong branding practices to Asian companies determined to outperform their competitors. The Brutal Truth About Asian Branding is a timely book that all Asian CEOs with global aspirations should read.
Richard Eu
Group CEO, Eu Yan Sang International

The Brutal Truth About Asian Branding is the first book that connects branding frameworks to the realities of operating in Asia. It offers a very straightforward perspective on the challenges Asian CEOs face as they build their businesses and their brands, and perhaps the most compelling part of the book is the passionate plea for how Asian CEOs should be thinking different about branding. In true Baladi style, it is straight from the heart.
Maarten Kelder
Managing Partner (Asia), Monitor Group

A very interesting and valuable perspective on Asian branding... one that decision makers in the region should read and embrace. Well done Joe!
Ron Sim
Founder & CEO, OSIM International

Brands mean Business, anywhere in the world! The focus on Asia, at this time, is natural since the developing nations of the region did so much to help the world recover from the global 2008 economic crisis. Baladi's text is timely; it is thoughtful and thought-provoking; putting people and brands center stage with practical insights borne of his breadth of personal experience at the frontline.
Chris D. Beaumont
Professor, Tokyo University, Global Centre of Excellence
Director, North Asia, Results International

The brutal truth is that Joe Baladi is right. Asian CEOs must learn the brand skills used so successfully in the rest of the world. It will take a big change in mentality, but the rewards will be vast. This book is a great start to that revolution.
Michael Newman
Author, 22 Irrefutable Laws of Advertising
Introduction.
1. A Time of Profound Change.
The old world order.
The new world order.
The rest of Asia.
Toll-gates and vision.
2. Five Reasons Why There are Very Few Great Asian brands.
1. Myopic CEO leadership.
2. Corporate culture is by default, rather than by design.
3. Charlatan brand practitioners.
4. Performance of government agencies.
5. Advertising agencies' lack of branding competencies.
Conclusion.  
3. Redefining Brand, Branding, and Advertising.
Brand and branding: Thinking differently.
Branding made easy: The People Analogy.
The brand blueprint.
The brand proposition.
The relationship between branding and advertising.
4. Pre-Branding.
Overview of the business and branding flowchart.
Business goals and business strategy.
The role of corporate guiding principles.
Summary: Charting the road to a successful business
5.  Brand Strategy.
If you don't make a choice, the choice makes you.
Differentiation.
Emotional dimension.
Focused target audience.
Ability to innovate and stay relevant.
CEO involvement and leadership.
Employee involvement and commitment.
Intelligent brand architecture.
CSR: The new branding imperative.
Summary.
6.  Methodology instead of Mythology.
Positioning or repositioning?
Preparing for a (positioning or repositioning) branding project.
The strategy-centric brand development methodology.
Costing the project proposal. 
7. Brand into Action: Delivering against Your Promise.
Be careful what you promise.
Making the brand come alive.
Summary.
8. Conclusion.
The future is here.
Caught up in a good thing.
The "Asian/Chinese Century".
Everything is connected; the rest is conceptual.
Summary: Tomorrow's Asian CEO today.
Index.