The Building Regulations: Explained and Illustrated, 14th Edition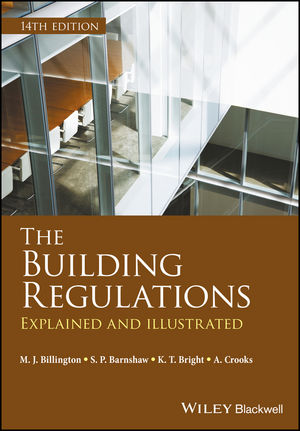 The Building Regulations: Explained and Illustrated, 14th Edition
ISBN: 978-1-119-07081-8
Mar 2017, Wiley-Blackwell
1024 pages
Description
Since publication of the first edition in 1976, The Building Regulations: Explained and Illustrated has provided a detailed, authoritative, highly illustrated and accessible guide to the regulations that must be adhered to when constructing, altering or extending a building in England and Wales.
This latest edition has been fully revised throughout. Much of the content has been completely rewritten to cover the substantial changes to the Regulations since publication of the 13th edition, to ensure it continues to provide the detailed guidance needed by all those concerned with building work, including architects, building control officers, Approved Inspectors, Competent Persons, building surveyors, engineers, contractors and students in the relevant disciplines.
I: Legal and Administrative
.
1 Building control: an overview.
2 The Building Regulations and approved documents.
3 Local authority control.
4 Private certification.
5 Work under the supervision of a competent person.
II: Technical.
6 Structural stability (Part A).
7 Fire (Part B).
8 Materials, workmanship, site preparation and moisture exclusion (Part C).
9 Toxic substances (Part D).
10 Sound insulation (Part E).
11 Ventilation (Part F).
12 Hygiene (Part G).
13 Drainage and waste disposal (Part H).
14 Combustion appliances and fuel storage systems (Part J).
15 Protection from falling, collision and impact (Part K).
16 Conservation of fuel and power (Part L).
17 Access to and use of buildings (Part M).
18 Glazing (Part N).
19 Electrical safety (Part P).
III: Appendices.
Local Acts of Parliament.
Index