The Bullish Thinking Guide for Managers: How to Save Your Advisors and Grow Your Bottom Line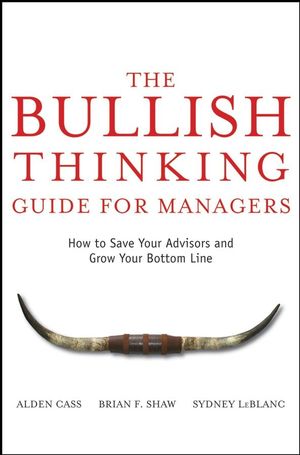 The Bullish Thinking Guide for Managers: How to Save Your Advisors and Grow Your Bottom Line
ISBN: 978-1-119-19883-3
Oct 2015
240 pages
Description
The Bullish Thinking Guide for Managers serves as an educational tool for proactively dealing with emotional distress that may affect advisors in the high-risk/high-reward world of finance. In it, Dr. Alden Cass and Dr. Brian Shaw—with the help of Sydney LeBlanc—explore strategies that will help you recognize potential job stressors, manage office conflicts, and implement appropriate solutions. It will also assist you in developing a specific set of skills that will allow you to deal with the unpredictability of this environment.
Preface.
Acknowledgments.
About the Authors.
Introduction.
Take Stock of Your Advisors Today.
Is There any Doubt This Book Can Help You and Your Advisors?
Bullish Thinking Strategies for Positive Change.
Chapter 1. Stop the ""Dance"".
Are You Turning a Blind Eye to Problems in Your Office?
Unsung Heroes: Kicking or Kissing Butt?
Finding Your ""Inner Coach"".
Help Yourself First; Then You Can Help Others.
Facing the Hard Issues on Your Desk.
Chapter 2. Bullish Thinking™.
How to Change Negative Behavior and Destructive Thoughts.
Are You Listening to Their ""Silent Cries"" for Help?
The Symptoms Emerge.
A Wall Street Tragedy: The Descent of Dave.
What are the Consequences of Dave's Bearish Thinking?
Chapter 3. Linking Emotions/Feelings, Behavior and Thinking.
The Science Behind Bullish Thinking.
The Science: Or, ""How to Be A Mind Reader"".
Are You a Good Poker Player?
Chapter 4. Getting to Know Yourself and Your Advisors.
Introducing the O.C.E.A.N System of Personalities.
Mirror, Mirror on the Wall.
You've Got Personality!
Personality Meets a Challenge: The O.C.E.A.N. System and the Big Five.
The Four Management Leadership Styles.
Pros and Cons of the Most Common Leadership Styles.
Chapter 5. Advisor Mindset Categories.
What is Driving Their Behavior?
The Five Common Advisor Mindsets: Take Your Advisors on an OCEAN Cruise.
The Soup: Get the Right People on the Bus.
Are You Ready for Monday Morning?
Case Study: Command and Control Manager vs. Contrarian Advisor.
Case Study: Decision Maker Manager vs. Catalyst Advisor.
Case Study: Igniter Manager vs. Perfectionist/Facts and Details Advisor.
Reverse Engineering.
Mindsets, Leadership Styles, and Bullish Thinking.
Chapter 6. How to Talk to Each Type of Advisor.
Top Do's and Don'ts.
Establishing Clear Lines of Communication.
Define the Problem or Situation.
Ways to Get Your Advisor to "Open Up".
Get Out Your Crystal Ball: The Five Advisor Mindsets Under Stress, and How to Predict Their Reactions and Help Them.
When Problem-Solving Doesn't Work.
I Have This Teenager I'd Like You to Meet.
Chapter 7. Emotion Commotion.
The Moods, Vulnerabilities, and Emotional States of Your Advisors.
The Bottom Line: The Numbers.
What's All the Commotion? Knowing How to Approach Emotion.
Understand the Core Conflicts.
Bullish Thinking Resolves Core Stressors, Negative Thoughts.
How Bearish Thoughts Affect Performance.
The Quiet Spirit-Killer.
Using the H.A.R.D - E Technique with Your Advisors During a Sit-Down.
Emotional Discipline: The Glue That Holds it all Together.
Chapter 8. Therapy for Your Advisors.
It's All in the Family.
There's No Place Like Home? Our Findings.
The Solution.
What Happens at Home, Stays at Home?
Significant Stressors in an Advisor's Personal Life.
Helping Your Advisors Work through Crises.
How to Channel a Crisis into Productivity for Your Advisor.
Chapter 9. How to Motivate Your Advisors.
Help Them Capture More Assets and Produce at Higher Levels.
Assertive or Demanding?
Motivating for Higher Production Levels.
There Is No Cookie-Cutter Approach.
Confidence-Building Strategies for Your Advisors.
Motivation: Get It Straight from the Horse's Mouth!
Dealing with Sensitive Topics.
Using Emotion as a Strategy to Encourage Struggling Advisors.
Chapter 10. Harnessing Your Team of Advisors.
Structuring, Profiling, and Managing.
How to Help Your Advisors Structure Their Team.
Using the O.C.E.A.N System to ""Team"" Profile Your Advisors.
Case Study.
How to Use Profiling Strategies to Solve Team Communication Problems.
Combining Moods, Mindsets, and Skills, and Managing a Team in Crisis.
""There Is a Major Crisis and I Need Help"".
Put Yourself in Harold's Shoes.
Harold's Bullish Thinking Coaching Session: Help Is On the Way.
Bullish Thinking Solutions.
Chapter 11. The Psychology of the SuperStar.
Managing Egos and Attitudes While Preserving the Bottom Line.
Managing the Superstar Advisor.
The Everyday Superstar.
The Vulnerable Superstar.
How to Distinguish Snakes from Peacocks?
Narcissists And Psychopaths: The Danger Zone of Management.
Managing the Everyday Superstar Advisor.
Create the Environment.
Right and Wrong Ways to Deal with Entitlement and Arrogance.
A Coach's Perspective on High Achievers.
The Good News.
The Not-So-Good News.
Shaping Your Top Advisors.
Chapter 12. Think Like a Shrink: You are Not Alone.
Fighting Stigma in the Workplace.
What You Don't Know Could Hurt . . . Well . . . Everybody.
Think Like a Shrink: Trained Observations.
Which Drugs May Be Impacting Your Advisors?
Job One: Keep Your Eyes and Ears Open.
I Learned a Little Too Late.
A Fatal Lesson.
What to Do: The Next Steps.
A Darker Side of the Business.
The Room of Silence.
Other Avenues of Help for You.
Additional Support for Managers.
Hope for the Future: Remember, You are Never Alone.
The Last Word . . . the First Step.
Appendix A. Dr. Alden Cass' Landmark Research Study.
Casualties of Wall Street: An Assessment of the Walking Wounded.
Introduction.
Method.
Participants.
Location.
Instruments.
Procedure.
Results.
Discussion.
Appendix B. Bad Medicine for Wall Street.
Alcohol Use and Other Substance Abuse Trends during War and other Catastrophic. Events.
Abstract.
Bad Medicine for Wall Street: Alcohol Use Trends During War.
Method.
Participants.
Materials.
Design and Procedure.
Results.