The Business Plan Guide for Independent Consultants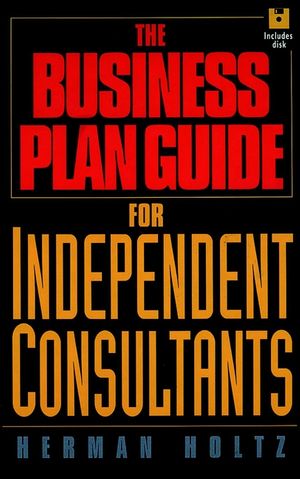 The Business Plan Guide for Independent Consultants
ISBN: 978-0-471-59736-0
Nov 1994
240 pages
Description
At last, a complete business plan guide just for independent consultants! . . . And who better to write it than North America's #1 bestselling author on consulting?

Unlike most general business plan books that focus on raising capital and applying for loans, this unique do-it-yourself guide concentrates on defining services and products. Written by Herman Holtz, the nation's leading expert on making it as an independent consultant, it tells you everything you need to know to develop a realistic, workable business plan that prepares you for any contingency and helps guide your day-to-day decision making as your business flourishes and grows. Numerous illustrations and worksheets guide your every step and save you the drudgery of starting from scratch. This book covers all business planning topics of crucial concern to consultants, including:
* Defining your products or services
* Market research and sales strategies
* Rate structures and income projections
* Worksheets to help you create objectives and set goals
* Sample business plan


Includes the Author's Disk to help you prepare your business plan, from defining your services and target market to estimating start-up costs, setting rates and consulting fees, and projecting income. Boilerplate contracts and letters of agreement are also provided.
Why You Need a Business Plan.

Mission Statements and Business Definitions.

Start-Up Planning.

Initial Commitments.

Market Analysis.

Analyzing and Qualifying Markets and Segments.

The Marketing Plan.

Planning the Presentations and Using the Tools.

Zeroing in on Your Market.

Rates and Pricing.

The Financial Side of the Business.

A Sample Business Plan.

Appendix.

Index.