The Business of Being the Best: Inside the World of Go-Getters and Game Changers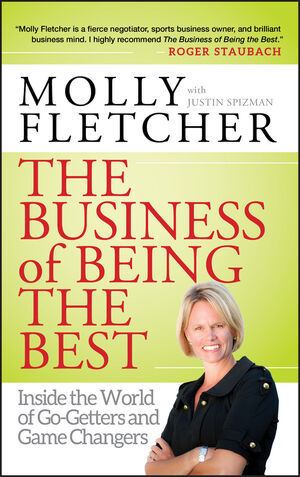 The Business of Being the Best: Inside the World of Go-Getters and Game Changers
ISBN: 978-1-118-15091-7
Nov 2011, Jossey-Bass
208 pages
Description
How the very best get to—and stay at—the top
From the arenas of professional sports to the boardrooms of major businesses, a thin slice of peak performers dominates every field. What is their secret to success? Few people know what drives these world-leaders like sports agent Molly Fletcher. Not only has Fletcher herself risen to the top of a tough, male-dominated field—CNN dubbed her "the female Jerry Maguire"—but she has also represented hundreds of successful athletes, coaches, and broadcasters in baseball, golf, basketball, and football. Her experience reveals exactly what it takes to play like "the best."
Breaks success into accessible strategies like smart negotiation, likability, and personal brand-building
Features interviews with such notables as Home Depot cofounder and Atlanta Falcons owner Arthur Blank, future Hall of Fame pitcher John Smoltz, and football legend Roger Staubach
Connects high performance to values by showing how the best give back
No matter what you do or what game you play, Fletcher's authoritative and inspirational look at the top 1 percent will help you win.
Preface ix
1 The Quest to Become the Best 1
2 Negotiate Everything 19
3 Communicate Your Way to Success 71
4 Develop Your Likability 95
5 Give Back 113
6 Lead Like the Best 131
7 Build a Personal Brand 155
Notes 177
Acknowledgments 181
About the Author 183
Index 185
"Molly Fletcher is a fierce negotiator, sports business owner, and brilliant business mind. I highly recommend
The Business of Being the Best.
"
—Roger Staubach
"Molly Fletcher is an MVP sports agent, and that's why I trusted her during my Major League Baseball career. Read this book and embrace the advice inside. It will teach you important skills and tactics you need to know to excel—not just at the negotiation tableor in your career, but in other aspects of your life."
—John Smoltz, former pitcher, Atlanta Braves; winner, Cy Young Award
"Molly Fletcher breaks down the keys to being the best to their core elements. She then takes it a step further by providing examples and practical tips that anyone can apply to succeed in business and life. There's something for everyone in this book."
—Arthur M. Blank, owner, Atlanta Falcons; founder, Home Depot
"Anyone trying to be the best needs all the help they can get. Molly Fletcher and her book can provide just that help. The Business of Being the Best is a must-read for high achievers."
—Jim Kennedy, chairman, Cox Enterprises, Inc.
"This is a must-read. It is compelling and destined to be a classic. Molly Fletcher has given you a gift with The Business of Being the Best, and best of all, she practices what she preaches."
—Tom Izzo, head men's basketball coach, Michigan State University
"Informative, tactical, and executable, The Business of Being the Best will inspire and enhance you. Buy it, read it, and implement it in your life."
—Kathy Betty, former owner, Atlanta Dream (WNBA)
"If there's anybody who knows what it means to be the best, it's Molly Fletcher. In The Business of Being the Best she shares wisdom that inspires, encourages, and empowers readers to be the best professional, best parent, and basically best person they can be. This book is a gift."
—Ernie Johnson Jr., sportscaster, TNT/TBS
"The Business of Being the Best unlocks valuable traits for the go-getters and change agents. The stories are compelling, the messages are clear, and passion for business and life comes through in every story. I hope millions read and get inspired!"
— Edie Fraser, senior consultant, Diversified Search
"The Business of Being The Best is a diamond mine of insight. Filled with gems from the world's most successful leaders, this invaluable guide will make your business glitter and your career shine."
— Joey Reiman, CEO, BrightHouse; author, Thinking for a Living