The Business of Brands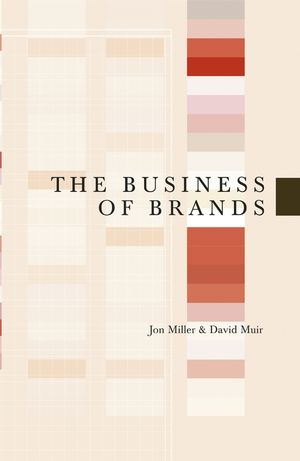 The Business of Brands
ISBN: 978-0-470-86259-9
Oct 2004
286 pages
Description
This is not a 'how to' book about branding. Instead it outlines approaches that will increase the accountability of marketing spending and provide tools to support investment decisions. Drawing on the world's largest database of brand research, The Business of Brands outlines the ways in which brands are a source of value for both businesses and consumers. For businesses, it shows how brands contribute to shareholder value, both through revenue generation and by acting as a management tool. And for consumers, it shows how brands can fulfil various valuable functions - such as acting as a source of trust or a predictor of quality.
Foreword.
Why This Book was Written.
The Six-Minute Read.
PART I: BRANDS AND BUSINESS.
1. What is a Brand?
2. Brand Strategy is Business Strategy.
3. Brands in the Boardroom.
PART II: SOURCES OF BUSINESS VALUE.
4. Strong Brands can Command Market Share.
5. Strong Brands Create Barriers to Entry for Competitors.
6. Strong Brands can Launch Successful Extensions.
7. Strong, Well-Defined Brands Find it Easier to Enter New Markets.
8. Strong Brands can Attract and Retain Talent.
9. Strong Brands have Lower Price Elasticity.
10. Strong Brands can Command a Premium.
11. Strong Brands can Deal with Market Disruption.
12. Strong Brands have More Loyalty.
13. Strong Brands are a Store of Trust.
14. Strong Brands Stimulate Innovation.
PART III: STRATEGIC BRAND PLANNING.
15. Defining the Market.
16. Strategic Challenges.
17. Launch.
18. Challenge.
19. Maintain.
20. Revitalise.
21. Re-brand.
22. Acquire.
PART IV: BRAND BIOGRAPHIES.
23. American Express.
24. Ben & Jerry's.
25. Def Jam.
26. IBM.
27. Dove.
28. BP.
29. The Economist.
PART V: MEASUREMENT AND VALUATION.
30. Understanding Brand Strength.
31. Understanding Brand Value.
32. Brand Measurement and Business Performance.
33. Building Strong Brands.
Conclusion.
Index.
"…would make an ideal gift for anyone interested in marketing and the management of brands…" (Campaign, 10
th
December 2004)
"…helps gain sight of what brands are really for in a business context…brings clarity, simplicity and brevity to the subject..." (Brand Strategy, March 2005)
'Brands are moving to the centre of business. Top management need to understand how to manage the potential of brands and this book will help.'--Sir Niall FitzGerald, Chairman of Reuters (former Chairman of Unilever)
'I do not believe there is a successful company left in the world that seriously questions the importance of brands but to manage brands profitably means accepting their complexity. For those of us who continue to grapple with these complexities, this book offers welcome new insights and case-based guidance.'--Sir Martin Sorrell, Chairman of WPP Group plc
'This book organises the best thinking on brands from around the world. It helps readers understand the power of brands and guides them on how to make the case for brand investment.'--Professor John Quelch, Associate Dean of Harvard Business School
'Brands play a vital role in business by setting expectations, motivating employees, attracting talent, strengthening relationships, and by building emotional bonds with consumers. As this book demonstrates, everybody is in the business of brands.'--Shelly Lazarus, Chairman and Chief Executive, Ogilvy & Mather Worldwide"