The Business of Event Planning: Behind-the-Scenes Secrets of Successful Special Events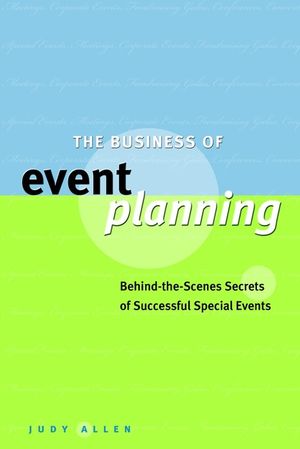 The Business of Event Planning: Behind-the-Scenes Secrets of Successful Special Events
ISBN: 978-0-470-83188-5 July 2002 354 Pages
Description
Practical tools and expert advice for professional event planners
Before planning an event, there is much that must be done behind the scenes to make the event successful. Before any thought is even given to timing or location of the event, before the menus are selected and the decor designed, there are proposals to be written, fees and contracts to be negotiated, and safety issues to be considered. This book takes you behind the scenes of event planning and explains every aspect of organizing and strategic planning. This book will be of value to both the professional event planner and to clients who are dealing with planners.
Its comprehensive coverage includes: how to prepare winning proposals, and how to understand them if you are the client; how to determine management fees; negotiating contracts; safety issues; designing events in multicultural settings; and new technology that makes operations more efficient (such as online registration and response management, database project management tools). The book also includes practical tools such as sample letters of agreement, sample layouts for client proposals, forms, and checklists. Professional event planner Judy Allen offers first-time or professional event planners all the top-class advice they need to make their special events come off without a hitch.
Preface.
Acknowledgements.
Chapter 1: The Strategic Planning of Event Design.
External Objectives.
Internal Objectives.
Day One Client Itinerary.
Day Two Client Itinerary.
Day Three Client Itinerary.
Day Four Client Itinerary.
Day Five Client Itinerary.
Day Six Client Itinerary.
Day Seven Client Itinerary.
Chapter 2: Preparing the Proposal.
The Proposal Request.
The Qualification Meeting.
The Proposal.
Proposal Preparation: The Initial Steps.
Making Contact With Key Suppliers.
Proposal Preparation.
Chapter 3: The Body of the Proposal.
Cover Letter.
Destination Review.
Transportation Requirements.
Hotel Information.
Day-by-Day Detailed Itinerary.
Grid.
Cost Summary Sheet.
Detailed Program Inclusions.
Program Options and Enhancements.
Company Profile.
References.
Backup Material.
Bringing It All Together.
Chapter 4: Management Fees.
Four Types of Fees.
Chapter 5: Contractual Negotiations With Suppliers.
Negotiating With Suppliers.
Chapter 6: Client Contracts.
The Three Rules of Contracts.
Areas Covered in the Client Contract.
Payment.
Liability and Responsibility.
Dates and Other Details.
Food and Beverage Hazards.
Technical Riders and Other Requirements.
Doing Your Homework.
Chapter 7: Safety and Security.
Travel Information.
Checklists for Out of Town Events.
Ensuring Client Safety.
Other Safety Issues.
New Areas of Consideration for Safety and Security.
Chapter 8: Event Planning Technology Tools and Emerging Trends.
Event Planning Technology Options.
Chapter 9: Multicultural and Foreign Event Planning.
Local Customs, Protocol and Etiquette.
Religious Beliefs.
Local Cultural and Political Matters.
Chapter 10: Event and Program Branding.
Establishing a Brand.
The Branded Image.
Program Branding.
The Branding Commitment.
Protecting the Client's Image and Standards.
Chapter 11: Conclusion.
Appendix.
Sample Proposal/Senior Management.
Sample Proposal/Incentive Sales Group.
Index.