The Business of Options: Time-Tested Principles and Practices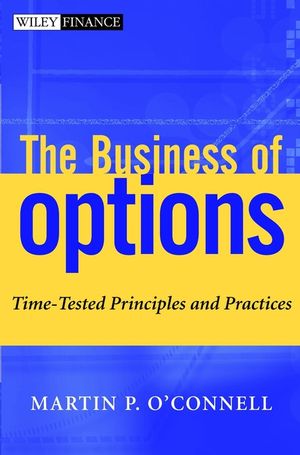 The Business of Options: Time-Tested Principles and Practices
ISBN: 978-0-471-15125-8 February 2002 256 Pages
Description
The Business of Options shows how to conduct a professional options business. While it addresses the principles and practices of option trading and hedging in great detail, the book is the first to do so from a management perspective. O'Connell's extensive experience in option trading, training, and consulting enables the book to offer a unique combination of sophistication, clarity and insight. Most option books that are written for professionals focus on advanced math or on specific trades. This book goes farther, incorporating broad strategic considerations and exploring the implications of likely human behavior. It often challenges conventional wisdom of "what works" in the options business. Its intuitive approach to complex issues involving options enables readers to stretch their mathematical capabilities. Its down-to-earth explanations about the business of options reflect both the optimism and skepticism of a seasoned practitioner in the option market who has, for over 20 years, advised and trained professional dealers and users of options around the world.
OPTION CONCEPTS AND TOOLS.

Are You Too Anxious to Win?

What's Different about Options?

Strategic Concepts and Principles.

Getting a Feel for Option Dynamics.

Option Valuation Models.

Volatility.

Greek Letters.

Thinking about Option Risk.

THE OPTION DEALING BUSINESS.

Neutral Spread Dynamics.

Comparative Strategy Analysis.

Position Management.

Framework for Risk Management.

Some Ideas for Personnel Management.

USING OPTIONS IN A BUSINESS.

Speculative Trading Principles.

Hedger Motivation and Behavior.

Positions for Corporate Hedgers.

Use of Options in an Investment Portfolio.

Living with a Hedge.

Epilogue: What Kind of Business Is This?

Index.