The Business of Value Investing: Six Essential Elements to Buying Companies Like Warren Buffett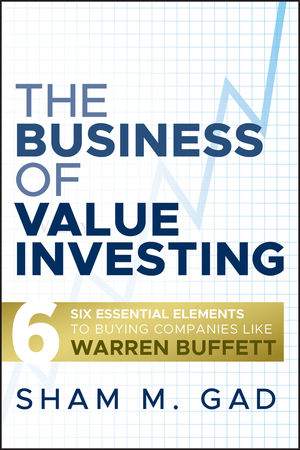 The Business of Value Investing: Six Essential Elements to Buying Companies Like Warren Buffett
ISBN: 978-0-470-55385-5
Oct 2009
288 pages
Description
A blueprint to successful value investing
Successful value investors have an ingrained mental framework through which all investments decisions are made. This framework, which stems from the father of value investing, Benjamin Graham-who believed that investment is most intelligent when it is most businesslike-can put you in a better position to improve the overall performance of your portfolio.
Written by Sham Gad-founder of the Gad Partners Funds, a value-focused investment partnership inspired by the 1950s Buffett Partnerships-The Business of Value Investing effectively examines the fundamental tenants of this approach and skillfully illustrates the six essential elements of the entire process. Opening with some informative discussions of how value investing focuses more on buying a piece of a business, and less on buying a company's stock, this reliable resource quickly moves on to detail exactly what it takes to become a successful value investor.
Outlines the six essential elements required for a successful risk averse value investment approach
Contains case studies that illustrate how to approach investing in an intelligent, businesslike fashion
Walks you through the pitfalls that most investors initially fall into
With The Business of Value Investing as your guide, you'll quickly become familiar with one of the most effective investment strategies ever created.
Acknowledgments.
Introduction.
Chapter 1 Invest in the Business, Buy the Stock.
Stock Prices are More Noise than Information.
A Businesslike Approach to Valuing the Business.
The Making of a Legend.
A Simple Idea, Really.
Chapter 2 The Only Three Types of Investments You Need to Know.
Stocks Prices Aren't Always Rational.
The Business Side of Investing.
Three Buckets: Undervalued, Overvalued, and Fairly Valued.
Price Determines Value.
Key Takeaways.
Chapter 3 The Six Elements of Intelligent Investing.
All Investing is Value Investing.
Learn From the Masters.
The Sum of Its Parts: A Fundamental Framework.
A Mental Latticework.
Overview of the Six Elements.
Emphasize the Process, Not the Outcome.
Key Takeaways.
Chapter 4 Establish a Sound Investment Philosophy.
The First Element.
Preservation of Capital is the Name of the Game.
Price Paid Determines Value Received.
The Starting Point Matters.
Avoid Using Margin.
Focus on Absolute Returns.
Key Takeaways.
Chapter 5 Develop a Search Strategy.
The Second Element.
Ignore the Media.
Imitation is Sincerest Form of Flattery.
Basic Search Strategies.
Advanced Search Strategy.
Key Takeaways.
Chapter 6 Effective Business Valuation.
The Third Element.
Value Investing 101: Margin of Safety.
Value Investing 201: Intrinsic Value.
Value Investing 301: Seek Businesses with a Wide Moat.
Value Investing 401: Calculating a True Intrinsic Value.
The Value of Management.
Understanding Return on Equity: Microsoft Corporation.
Key Takeaways.
Chapter 7 Have the Discipline to Say No.
The Fourth Element.
In Investing, Discipline is Everything.
Discipline Affects the Price Paid Which Determines the Value You Get.
Be Prepared to Look Stupid.
Don't Split Hairs.
Unveiling Investor A: Warren Buffett.
Discipline is Simple, but Rarely Easy.
Key Takeaways.
Chapter 8 Practicing the Art of Patience.
The Fifth Element.
Swimming Against the Current.
The Benefits of Waiting for a Good Pitch.
Ignorance Can Be Bliss.
The Benefits of a Buy and Hold Approach.
Conservative Tests of Safety a Must.
Key Takeaways.
Chapter 9 Invest Significantly at the Maximum Point of Pessimism.
The Sixth Element.
Putting It All Together.
Pessimism Leads to Value.
Avoid that Which Is Most Valuable.
Remain Flexible in the Approach.
All or Nothing.
Key Takeaways.
Chapter 10 More Than One Way to Find Value.
Case Studies Showing the Approach at Work.
A Reminder: Process First, Outcome Second.
Case Study #1: Finding Value in an Unloved Industry.
Sunrise Senior Living (SRZ).
Case Study #2: Money Machine South of the Border.
Ternium Steel.
Case Study #3: A Tale of Two Shares.
Mueller Water Products.
Fertile Hunting Ground.
Conclusion.
Key Takeaways.
Chapter 11 Avoiding Common Stumbling Blocks.
Growth and Value: Two Sides of the Same Coin.
Book Value: More Than Meets the Eye.
What Matters Most.
Key Takeaways.
Chapter 12 Starting an Investment Partnership.
Two Key Considerations.
Service Providers.
Quality Matters Most. 
Notes.
About the Author.
Index.