The CISSP Prep Guide: Mastering the CISSP and ISSEP Exams, 2nd Edition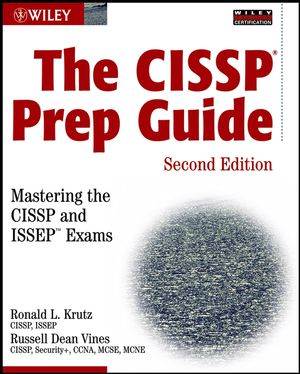 Description
This updated bestseller features new, more focused review material for the leading computer security certification-the Certified Information Systems Security Professional, or CISSP
The first book on the market to offer comprehensive review material for the Information Systems Security Engineering Professional (ISSEP) subject concentration, a new CISSP credential that's now required for employees and contractors of the National Security Agency (NSA) and will likely be adopted soon by the FBI, CIA, Department of Defense, and Homeland Security Department
The number of CISSPs is expected to grow by fifty percent in 2004
The CD-ROM includes the Boson-powered interactive test engine practice sets for CISSP and ISSEP
Acknowledgments.
Foreword.
Introduction.
About the Authors.
Preface to the 2nd Edition.
Part I: Focused Review of the CISSP Ten Domains.
Chapter 1: Security Management Practices.
Chapter 2: Access Control Systems.
Chapter 3: Telecommunications and Network Security.
Chapter 4: Cryptography.
Chapter 5: Security Architecture and Models.
Chapter 6: Operations Security.
Chapter 7: Applications and Systems Development.
Chapter 8: Business Continuity Planning and Disaster Recovery Planning.
Chapter 9: Law, Investigation, and Ethics.
Chapter 10: Physical Security.
Part II: The Information Systems Security Engineering Professional (ISSEP) Concentration.
Chapter 11: Systems Security Engineering.
Chapter 12: Certification and Accreditation (C&A).
Chapter 13: Technical Management.
Chapter 14: U.S. Government Information Assurance (IA) Regulations.
Part III: Appendices. & lt;p> Appendix A: Answers to Assessment Questions.
Appendix B: Glossary of Terms and Acronyms.
Appendix C: Sample SSAA.
Appendix D: Excerpts from the Common Criteria.
Appendix E: The Cost Analysis Process.
Appendix F: National Information Assurance (IA) Glossary.
Appendix G: What's on the CD-ROM.
End-User License Agreement.
Index.
Chapter
Page
Details
Date
Print Run
CD ID#105
CD Question ID# 105
The class A address range is 1.0.0.0 to 126.255* The class B address range is 128.0.0.0 to 191.255* The class C range is from 192.0.0.0 to 223.255* The class D range is from 244.0.0.0 to 239.255* and is used for ... Should say...The class D range is from 224.0.0.0 to 239.255* and is used for multicast packets. A multicast group is specified by a class D IP address and by a standard UDP port number. Class D IP addresses are in the range 224.0.0.0 to 239.255.255.255, inclusive.
7/26/04

---
The first book on the market to offer comprehensive review material for the Information Systems Security Engineering Professional (ISSEP) subject concentration, a new CISSP credential that's now required for employees and contractors of the National Security Agency (NSA) and will likely be adopted soon by the FBI, CIA, Department of Defense, and Homeland Security Department

The CD-ROM includes the Boson-powered interactive test engine practice sets for CISSP and ISSEP