The CSI Project Delivery Practice Guide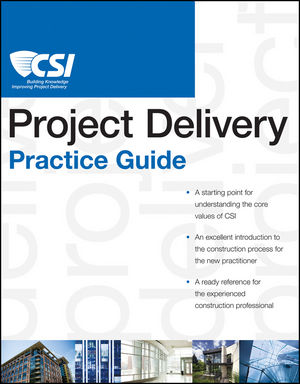 The CSI Project Delivery Practice Guide
ISBN: 978-0-470-95145-3
Apr 2011
496 pages
Description
Get the must-have reference on standards and best practices for the delivery of a construction project.

The CSI Practice Guides are a library of comprehensive references specifi cally and carefully designed for the construction professional. Each book examines important concepts and best practices integral to a particular aspect of the construction process. Laying the foundation for this series, The CSI Project Delivery Practice Guide provides fundamental knowledge for the documentation, administration, and successful delivery of construction projects. It also serves as the pivotal starting point for understanding CSI's core values, as well as a useful study aid for those wishing to obtain the Construction Documents Technologist certificate.

This easy-to-follow guide:
Is a great introduction to the construction process for the new practitioner.
Functions as a ready reference for the experienced construction professional.
Packaged with the book is an access code which allows access to a password-protected web site with bonus content, including a PDF of the printed book and samples of CSI format documents, such as UniFormat and SectionFormat/PageFormat.
The CSI Project Delivery Practice Guide offers general information all construction professionals need for understanding their roles in the delivery of a construction project. Key principles are presented and discussed in detail to allow the reader to take full advantage of material covered in depth by the more specialized CSI Practice Guides. If you can own only one Practice Guide, this is the one to get.
Preface.
Acknowledgments.
Chapter 1: Introduction to The CSI Project Delivery Practice Guide.
1.1 Introduction.
1.2 Understanding Project Delivery as Foundational Knowledge.
1.3 Magnitude of Design and Construction Information Available.
1.4 Managing Information.
1.5 The Nature of the Project and Facility.
Chapter 2: Stakeholders and Participants.
2.1 Introduction.
2.2 The Owner Team.
2.3 The Design Team.
2.4 The Contractor Team.
2.5 The Supplier Team.
2.6 Team Selection Process.
2.7 Partnering and Collaboration.
2.8 Commissioning.
Chapter 3: Facility Life Cycle.
3.1 Introduction.
3.2 The Nature of the Facility Life Cycle.
3.3 Integrated Project Delivery.
3.4 Construction Specifications Institute.
Chapter 4: Codes, Regulations, and Standards.
4.1 Introduction.
4.2 Authorities Having Jurisdiction.
4.3 Codes.
4.4 Regulations.
4.5 Standards.
4.6 Associations, Societies, Councils, and Institutes.
Chapter 5: Contracts and Legal Issues.
5.1 Introduction.
5.2 Owner, Architect/Engineer, and Contractor Tripartite Relationships.
5.3 Elements of a Contract.
5.4 Standard Agreement Forms.
5.5 Example—Contract between Owner and Contractor.
5.6 Contract Types.
5.7 Form of Agreement.
5.8 Compatibility of Agreements.
5.9 Design Team Coordination.
5.10 Important Legal Issues.
Chapter 6: Project Planning.
6.1 Introduction.
6.2 Project Conception.
6.3 Due Diligence Investigations.
6.4 Site Selection.
6.5 Facility Programming.
6.6 Facility Performance Criteria.
6.7 Anticipating the Cost of the Work.
6.8 Setting the Scheduling.
Chapter 7: Project Delivery.
7.1 Influencing Factors.
7.2 Design-Bid-Build.
7.3 Design-Negotiate-Build.
7.4 Construction Management.
7.5 Design-Build.
7.6 Owner-Build.
7.7 Integrated Project Delivery.
Chapter 8: Design.
8.1 Introduction.
8.2 Dual Nature of Design.
8.3 Design Considerations.
8.4 Aesthetics.
8.5 Functional Requirements.
8.6 Constructability.
8.7 Sustainability.
8.8 Design Phases.
8.9 Quality Assurance/Quality Control Requirements.
8.10 Budgets.
8.11 Cost Estimates.
8.12 Life Cycle Costs.
8.13 Value Analysis.
8.14 Controlling Variables.
Chapter 9: Design Documents.
9.1 Introduction.
9.2 Design Concept Phase Documentation.
9.3 Schematic Design Phase Documentation.
9.4 Design Development Phase Documentation.
Chapter 10: Product Selection and Evaluation.
10.1 Introduction.
10.2 Types of Products.
10.3 Importance of Product Selection and Evaluation.
10.4 Obtaining Product Information.
10.5 The Evaluation and Selection Process.
10.6 Services That Product Representatives Provide.
Chapter 11: Construction Documents.
11.1 Introduction to Construction Documents.
11.2 Drawings.
11.3 Specifications.
11.4 Procurement Requirements.
11.5 Contracting Requirements.
Chapter 12: Procurement.
12.1 Introduction.
12.2 Pricing Methods.
12.3 Purchasing.
12.4 Pricing Considerations.
12.5 Competitive Pricing.
12.6 Project Information.
12.7 Bidding.
12.8 Negotiating Process.
12.9 Purchasing of Goods.
12.10 Subcontracting.
Chapter 13: Construction.
13.1 Introduction.
13.2 Construction as a Team Activity.
13.3 Roles and Responsibilities.
13.4 Preconstruction.
13.5 Meetings.
13.6 Submittals.
13.7 Site Visits, Observations, and Inspections.
13.8 Quality Assurance and Quality Control.
13.9 Interpretations and Modifications.
13.10 Executing the Work.
13.11 Claims and Disputes.
13.12 Measurement and Payment.
13.13 Project Closeout.
Chapter 14: Facility Management.
14.1 Transition.
14.2 Occupancy.
Index.
| Chapter | Page | Details | Date | Print Run |
| --- | --- | --- | --- | --- |
| | | Errata ,See the Downloads tab for the latest errata document. | 2/21/12 | |