The Cancer Handbook, 2 Volume Set, 2nd Edition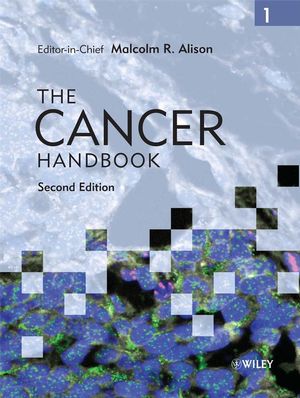 The Cancer Handbook, 2 Volume Set, 2nd Edition
ISBN: 978-0-470-01852-1 July 2007 1616 Pages
Download Product Flyer
Download Product Flyer
Download Product Flyer is to download PDF in new tab. This is a dummy description. Download Product Flyer is to download PDF in new tab. This is a dummy description. Download Product Flyer is to download PDF in new tab. This is a dummy description. Download Product Flyer is to download PDF in new tab. This is a dummy description.
Description
The Cancer Handbook
provides a comprehensive overview of scientific and clinical information in cancer research and medicine (oncology). This area is one of the most intensively studied in biology and medicine, resulting in a huge amount of new information being published every year. This book summarizes and explains key facts and recent developments. It is aimed at a wide variety of readers who need easy access to knowledge concerning all major aspects of cancer biology, without too much clinical detail or specialist research material.
The Cancer Handbook stands out from existing oncology textbooks and reference works in that it bridges the gap between the molecular biology of cancer and clinical diagnosis and treatment. As more and more laboratory research is applied to clinical management, e.g. the use of monoclonal antibodies as drugs, it is important that clinicians understand the aetiology of the disease and the molecular basis of the new therapeutic approaches. It is also important for laboratory scientists to appreciate the potential applications of their research and the practical issues involved in translating it to clinical practice.
For this second edition, all the sections have been fully revised and updated, with new chapters addressing important topics that have gained prominence in recent years. New editors and authors have brought additional expertise to the project. For example, in the section on the Molecular and Cellular Basis of Cancer, there are new chapters on stem cells, epigenetics, and microRNAs, as well as chapters on the links between cancer and development and inflammation. In the Treatment section, the emphasis is now on multidisciplinary team management of different cancers, plus there are new chapters on clinical trial design, RNA interference and rational drug design.
The page design and the quality of the diagrams has been improved, with all illustrations now in full colour. The glossary has been made more informative and easy to use.
Table of contents
Part I The Molecular and Cellular Basis of Cancer
1 Cell and Tissue Organization 

2 Stem Cells and Tumorigenesis

3 Regulation of the Cell Cycle, Cell Cycle Checkpoints, and Cancer  

4 Apoptosis

5 Genetic Susceptibility to Cancer

6 The Role of Epigenetic Alterations in Cancer

7 Genomic Instability and DNA Repair

8 Micro-RNAs as Oncogenes and Tumour Suppressors

9 Regulation of Translation in Malignant Transformation

10 Human DNA Tumour Viruses

11 RNA Tumour Viruses

12 Invasion and Metastasis

13 Angiogenesis

14 The Biology of Tumour Stroma 

15 The Links between Inflammation and Cancer

16 Telomerase

17 Signalling by Steroid Receptors

18 Signalling by Cytokines

19 Signalling by Tyrosine Kinases

20 Signaling by Ras and Rho GTPases

21 Wnt Signal Transduction 

22 Transforming Growth Factor-ß And Cancer

23 p53 Family Pathway in Cancer 

24 The Retinoblastoma Tumour Suppressor

25 Development and Cancer- The HOX Gene Connection 

Part II The Causation and Prevention of Cancer

26 Epidemiology in the Identification of Cancer Causes

27 Mechanisms of Chemical Carcinogenesis

28 The Formation of DNA Adducts

29 Physical Causes of Cancer

30 Non-genotoxic Causes of Cancer

31 Infectious Agents and Cancer

32 Short-Term Testing for Genotoxicity

33 Cancer Bioassays

34 Molecular Epidemiology of Cancer and the Use of Biomarkers

35 Dietary Genotoxins and Cancer

36 Tobacco Use and Cancer

37 Occupational Causes of Cancer

38 Intervention and Chemoprevention of Cancer - Treatment of Carcinogenesis

Part III Systematic Oncology

39 Introduction to the Diagnosis of Cancer

40 Skin

41 Oral Cavity and Major and Minor Salivary Glands

42 Respiratory System

43 Upper Gastrointestinal Tract

44 Lower Gastrointestinal Tract

45 Pancreas

46 Liver, Gallbladder, and Extrahepatic Bile Ducts

47 Endocrine Organs

48 Breast

49 Female Reproductive System

50 Urinary Tract

51 Male Genital Tract

52 Lymph Nodes

53 Blood and Bone Marrow: Myeloid Leukaemias and Related Neoplasms

54 Bones

55 Soft Tissues

56 Pleura and Peritoneum

57 Heart

58 Neuromuscular System

59 Eye and Ocular Adnexa

60 Ear

61 Unknown Primary

Part IV Pre-clinical models for Human Cancer

62 Advantages and Limitations of Models for Cancer and Malignant Cell Progression

63 Basic Tissue and Cell Culture in Cancer Research

64 Transgenic Technology in the Study of Oncogenes and Tumour-Suppressor Genes

65 Genetic Models: A Powerful Technology for the Study of Cancer

66 Gene Knockouts in Cancer Research

67 Human Tumours in Animal Hosts

68 Mathematical Models of Cancer Growth and Development

69 Models for Tumour Growth and Differentiation

70 Models for Tumour Cell-Stromal Cell Interactions

71 Models for Angiogenesis

72 Models for Tumour Cell Adhesion and Invasion

73 Models for Tumour Cell-Endothelial Cell Interactions 

74 Models for Tumour Metastasis

75 Models for Drug Development and Drug Resistance

76 Models for Immunotherapy and Cancer Vaccines

77 Models for Gene Therapy

78 Models for Breast Cancers

79 Models for Prostate Cancer

80 Models for Genitourinary Cancer - Hereditary Renal Carcinogenesis

81 Mouse Models for Gastrointestinal Carcinomas

82 Models for Liver Cancer

83 Models for Lymphoma

84 Models for Human Leukaemias

85 Models for Sarcomas

86 Models for Skin Cancer

87 Models for CNS Malignancies

Part V The Treatment of Cancer

88 Conventional Chemotherapeutics 

89 Rational Drug Design of Small Molecule Anticancer Agents: Preclinical Discovery

90 Rational Drug Design of Small Molecule Anticancer Agents: Early Clinical Development

91 Modern Approaches to Radiation Therapy

92 Gene and Viral Therapy

93 Cancer Vaccines

94 Antibody Therapy for Cancer

95 Anti-angiogenic and Anti-stromal Therapy

96 RNA Interference

97 Cancer Chemoprevention

98 Mechanisms and Management of Cancer Pain

99 Clinical Trial Design for Anticancer Therapies

100 Head and Neck Cancer

101 Melanoma

102 Antihormonal Therapy for Breast and Prostate Cancer

103 Collaborative Approach to Multidisciplinary Breast Cancer Care

104 Management of Haematological Malignancies

105 Multidisciplinary Team Management of Lung Cancer

106 Multidisciplinary Team Management of Gynaecological Cancers

107 Multidisciplinary Management of Genitourinary Malignancies

108 Multidisciplinary Team Management of Upper Gastrointestinal, Hepatic, Pancreatic, and Biliary Cancers

109 Multidisciplinary Team Management of Colorectal Cancer.

Reviews
"Highly recommended for all health care or medical libraries and oncology or cancer research libraries." (
American Reference Books Annual
, March 2008)
"…a valuable addition to most medical school libraries and also to the collection of most graduate and oncologic training programs." (Doody's Health Services)