The Candlestick Course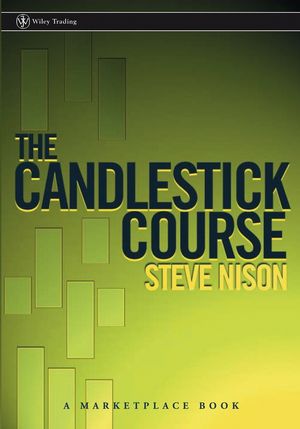 The Candlestick Course
ISBN: 978-0-471-22728-1
May 2003
240 pages
Description
Expert instruction on the practical applications of candlestick charting

Candlestick charting is more popular than ever before, with a legion of new traders and investors being introduced to the concept by some of today's hottest investment gurus. Having introduced the candlestick technique to the West through two of his bestselling books, Steve Nison is regarded as a luminary in the field of candlestick charting. In his new venture, The Candlestick Course, Nison explains patterns of varying complexity and tests the reader's knowledge with quizzes, Q&As, and intensive examples. In accessible and easy-to-understand language, this book offers expert instruction on the practical applications of candlestick charting to give every level of investor a complete understanding of this proven, profitable, and time-tested investing technique. Straightforward answers quickly clarify this easy-to-use charting method. This guide will allow readers to recognize and implement various candlestick patterns and lines in today's real-world trading environment–giving them a noticeable edge in their trading activities
Foreword by Toni Turner.
About the Author.
Introduction.
CHAPTER ONE: THE ESSENTIALS.
Section One. Candlestick Overview.
Section Two. Candlestick Construction.
Section Three. Basic Market Strategies.
CHAPTER TWO. SINGLE CANDLE LINES.
Section One. Spinning Tops and High Wave Candles.
Section Two. The Dangerous Doji.
Section Three. Long Real Bodies, the Consummate Storytellers.
CHAPTER THREE. THE POWER OF CANDLE PATTERNS.
Section One. Close Cousins: Piercing, Dark Cloud Cover, Engulfing, and Counterattacks.
Section Two. The Harami and Harami Cross, Morning and Evening Stars.
Section Three. Picturesque Storytellers: Tweezers, Crows, and Soldiers.
Section Four. Disjointed Candles: Rising and Falling Windows.
CHAPTER FOUR: TAKING ADVANTAGE OF MARKET OPPORTUNITIES.
Section One. Candle Chart Applications.
Section Two. Trading Guidelines.
CHAPTER FIVE: PROGRESSIVE CHARTING.
CHAPTER SIX: BRINGING IT ALL TOGETHER: REAL-WORLD CHARTS.
Conclusion.
Visual Glossary of Candlestick Terms Used in This Book.