The Cash Flow Forecaster & Real Estate Calculator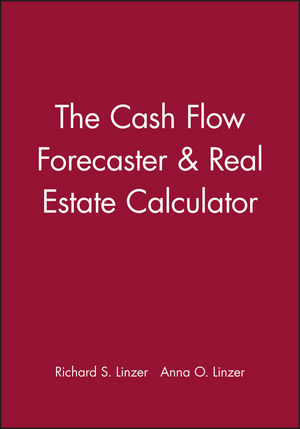 The Cash Flow Forecaster & Real Estate Calculator
ISBN: 978-0-787-99605-5
Mar 2008, Jossey-Bass
Description
Tools to Help with Your Organizational and Financial Planning
This download consists of three files:
The Cash Flow Forecaster is a Microsoft® Excel®–based tool developed to make cash flow budgeting, projection, and monitoring quicker and easier. It analyzes the effects of monthly income and expense patterns on an organization's cash resources over time. Given an organization's expected income and expenses for each month, the spreadsheet calculates and graphs net cash flow and the cumulative effects on cash resources (Cash or Debt) for periods of one year, three years, five years, and up to twenty years. Results are graphed for visualization and presentation. Included in this workbook are Quick Instructions, including an example, and a longer Instructional Guide.
The Real Estate Calculator, also in Excel®, is a tool designed to help you make the right decisions when considering a real estate and a real estate strategy for your organization.
The Real Estate Calculator Help Sheet is a PowerPoint® presentation that explains how the Real Estate Calculator works. Use this Help Sheet to understand how you can use the Calculator. It contains instructions for navigating the Real Estate Calculator and a sample scenario of an organization considering different financing or lease options for acquiring a property for its operations. Data tied to the various real estate assumptions in this scenario are already entered into the Real Estate Calculator. The Help Sheet walks you through the process of weighing the options to come up with the right decision for this case.
For more information on the models and the concepts these tools are built on, and discussion of their application, please refer to these books:
Cash Flow Strategies: Innovation in Nonprofit Financial Management (includes a CD with The Cash Flow Forecaster and the Real Estate Calculator)
ISBN: 9780787981471
The Cash Flow Solution: A Nonprofit Board Member's Guide to Financial Success,
ISBN: 9780787978334
System requirements:
PC to download and unzip the files
Microsoft® Excel® 2000 or higher
Microsoft® PowerPoint® 2000 or higher or PowerPoint® Viewer
A compression tool to uncompress the files, such as WinZip for Windows users (http://www.winzip.com) or Stuff It for Mac users (http://www.stuffit.com)
An internet connection to download the files (1,544Kbps download speed capable or higher recommended, which includes T1, HDSL, ADSL, or Cable Modem)
3MB of space for the files themselves
Ordering & Download Instructions:
Add the downloadable products to your cart & complete the ordering information
Once the purchase portion is complete you will be given information to download the a file through wiley.com onto your PC
Once you've downloaded the file onto your PC, uncompress the file
*Microsoft, Excel and PowerPoint are either registered trademarks or trademarks of Microsoft Corporation in the United States and/or other countries.