The Certeau Reader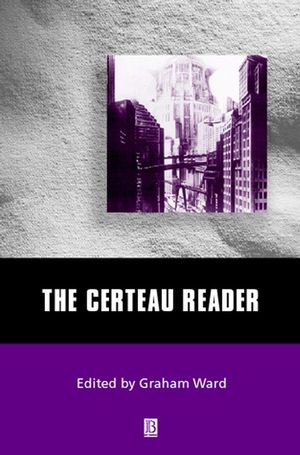 The Certeau Reader
ISBN: 978-0-631-21278-2
Feb 2000, Wiley-Blackwell
272 pages
Description
This volume brings together, for the first time, a variety of texts from Certeau's book and journal publications which have proved important in the various disciplines where Certeau has had an influence.
Notes on Contributors.
Acknowledgments.
Introduction. (Graham Ward).
Part I Other Times: Historiography.
1 Introduction: Michael de Certeau on Histography.
2 Writings and Histories.
3 History: Science and Fiction.
Part II Other Cities: Cultural Politics.
4 Introduction. (Tom Conley).
5 A Symbolic Revolution.
6 The Social Architecture of Knowledge.
7 The Indian Long March.
Part III Other People: Ethnorgraphy and Social Practice.
8 Introduction. (Ian Buchannan).
9. Walking in the City.
10. Believing and Making People Believe.
11. Ethno-Graphy, Speech, or the space of the Other. (Jean de Lery).
Part IV Other Languages: Speech and Writing.
12. Introduction. (Jeremy Ahearne).
13. The Scriptural Economy.
14. The World of the Vowel.
15. Mystic Speech.
Part V Other Beliefs: Theology.
16. Introduction: Michel de Certeau, Theologst. (Frederick Bauerschmidt).
17. The Weakness of Believing. From the Body to Writing a Christian Transit.
Select Bibliography.
Index.
"This excellent new reader is divided into five sections touching on different aspects of Certeau's work and his engagement with issues regarding the Other, spatiality, colonialism, the body, oppression, and others." The Front Table
* The first collection of key Certeau texts in one volume.
* This material would otherwise be hard for readers to locate.
* Includes new translations of original material.