The Challenges of Globalization: Rethinking Nature, Culture, and Freedom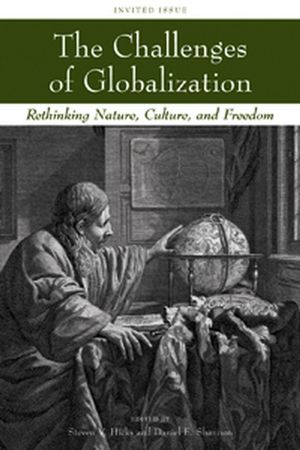 The Challenges of Globalization: Rethinking Nature, Culture, and Freedom
ISBN: 978-1-405-17356-8
Nov 2007, Wiley-Blackwell
280 pages
Description
This volume contains eleven essays dealing with the question of how to face the current challenges of globalization.
The essays included in this volume were originally presented at the Renvall Institute for Area and Cultural Studies, University of Helsinki, Finland, on the occasion of the Sixth World Congress of the International Society for Universal Dialogue (ISUD)
Presents Keynote addresses or prize-winning papers from the Congress
Central theme explores the need to rethink our concepts of nature, culture, and freedom in an age of increased globalization
Topics examined range from global justice, international law, and human rights to ecoterrorism, cultural relativism, and the challenges of autonomy
Introduced by Steven V. Hicks, past President of the ISUD, who discusses the issues of cultural conflict and crisis in the aftermath of Nietzsche's philosophy
Preface and Acknowledgments (
Steven V. Hicks and Daniel E. Shannon, Editors
).
Editorial Introduction: Rethinking Nature, Culture, and Freedom (Steven V. Hicks).
1 From a State of War to Perpetual Peace (Edward Demenchonok).
2 Discourse Ethics, Democracy, and International Law: Toward a Globalization of Practical Reason (Karl-Otto Apel).
3 Rethinking Global Justice from the Perspective of All Living Nature and What Difference it Makes (James P. Sterba).
4 Human Rights, Global Justice, and Disaggregated States: John Rawls, Onora O'Neill, and Anne-Marie Slaughter (Alyssa R. Bernstein).
5 Beyond Intrinsic Value: Undermining the Justification of Ecoterrorism (Charles S. Brown).
6 Does Kant Have Anything to Teach Us about Environmental Ethics? (Marc Lucht).
7 A Cultural Critique of Cultural Relativism (Xiaorong Li).
8 Culture, Evil, and Horror (Paul Santilli).
9 Persons: Natural, Functional, or Ethical Kind? (John P. Lizza).
10 The Subject of Freedom at the End of History: Socialism Beyond Humanism (John Sanbonmatsu).
11 A Rediscovery of Heaven-and-Human Oneness (Keping Wang).
"Most any student of globalization and social theory will want this book on his or her shelf."
Choice
<!--end-->
"In light of the serious problems that humanity faces… [this book] sets the ideal stage for reconsidering our concepts … and for seeking pragmatic solutions."
123jump.com


The essays included in this volume were originally presented at the Renvall Institute for Area and Cultural Studies, University of Helsinki, Finland, on the occasion of the Sixth World Congress of the International Society for Universal Dialogue (ISUD)

Presents Keynote addresses or prize-winning papers from the Congress

Central theme explores the need to rethink our concepts of nature, culture, and freedom in an age of increased globalization

Topics examined range from global justice, international law, and human rights to ecoterrorism, cultural relativism, and the challenges of autonomy

Introduced by Steven V. Hicks, past President of the ISUD, who discusses the issues of cultural conflict and crisis in the aftermath of Nietzsche's philosophy