The Changing Experience of Childhood: Families and Divorce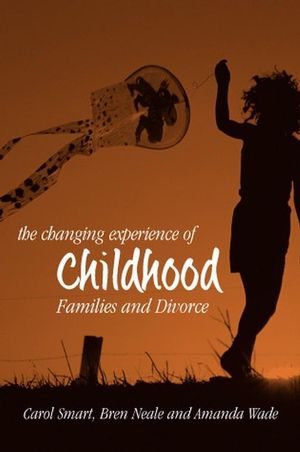 The Changing Experience of Childhood: Families and Divorce
ISBN: 978-0-745-62400-6
Oct 2001, Polity
232 pages
Description
Family life in modern societies is being transformed by high rates of divorce. Such changes have given rise to concerns that the quality of family life for children has deteriorated and that children are damaged by the choices their parents are making. It is possible, however, that children and families are more resilient than this. Rather than witnessing the end of the family and the end of contented childhood, we could be seeing the emergence of post-divorce families and new experiences of childhood based on these new arrangements.





This path-breaking book explores children's own accounts of family life after divorce and allows us to see these changes from their point of view. It provides a sociological perspective on how childhood may be changing and how the 'democratic' status of children in the family may be in the process of transformation. The implications for family and legal policy of listening to children's views are also set out.





The Changing Experience of Childhood will be of interest to all those in academic and public life concerned about the future of the family.
Acknowledgements.
Chapter 1: Re-thinking Childhood/Re-thinking Families.
Chapter 2: Childhood and Modern Narratives of Harm.
Chapter 3: Children's Perspectives on Post-Divorce Family Life.
Chapter 4: 'Doing' Post-Divorce Childhood.
Chapter 5: Do children care?: Childhood and Moral Reasoning.
Chapter 6: Children, Citizenship and Family Practices.
Chapter 7: Children's Experiences of Co-parenting.
Chapter 8: Children and their Parents: Different Perspectives.
Chapter 9: Implications.
Appendix.
Notes.
Bibliography.
Index
"This book is a fruit of sociologists' discovery of the child. The authors characterize past research in the field as "harmism" which examined children only in terms of the damage that parental divorce might do to them. In contrast, they set out to see children as people in their own right with voices that should be heard. The result is a rich, compelling and sometimes disturbing account of parental separation as seen by children."
Martin Richards, Director, Centre for Family Research, University of Cambridge.

"In this sensitive and insightful account of children's experiences of family change Smart and her colleagues provide detailed and evocative illustration of children's own views of divorce and parenting. Through the images and words of children themselves this book shows children to be active moral reasoners and negotiators in the construction of new meanings and ideas of family life post-divorce." Allison James, University of Hull

"The authors aim to be non-judgemental, to recognise each child's unique perspective, and to remember the powerful constraints on children's lives that complicate the power imbalance between adults and young people. In these repsects, their work acts as a reminder and a reaffirmation of high standards for policymakers and practitioners". Pricilla Alderson, Institute of Education, University of London.

"This book is of signal importance for all practitioners and policymakers concerned with children's issues and in particular their role in legal proceedings" Friona Raitt, Scolag Legal Journal


Features original research on children and family life


Written in a clear and accessible way


Builds on the work that Smart and Neale explored in their previous volume Family Fragments