The Changing Geography of China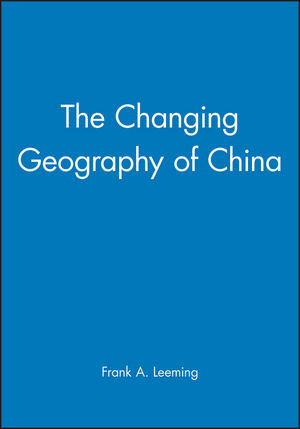 The Changing Geography of China
ISBN: 978-0-631-18137-8 March 1993 Wiley-Blackwell 224 Pages
Description
In this clear and carefully constructed text, Frank Leeming provides a superb introduction to the changing geography of China, which will be welcomed by students and teachers alike.
Table of contents
List of Tables.
List of Figures.
List of Plates.
1. China of Many Faces.
2. Resources and the Physical Environment.
3. The Historic Foundations of Contemporary Change.
4. Structures and Determinants in the People's Republic.
5. The Countryside - Rural Development and Rural Problems.
6. The Industrial System and the State Economy.
7. Urban China.
8. Features of Regional Change.
9. Retrospect and Prospect.
References.
Index.
Reviews
"This is well organized and well written on a country and topic of vast importance. The author is a seasoned and respected scholar and commentator on the contemporary China scene. The strength of the book is that it draws heavily on Chinese sources for its information and insights and in that sense well represents Chinese views, although seen through the eyes of a sensitive and informed western scholar, of changes underway in that country. Leeming's book offers a highly readable sketch of China today."
Clifton Pannell, Professor of Geography, University of Georgia
"Leeming's book should be welcomed by all those studying and teaching about China. It is refreshing to read a text life this, written by a single author, and in a good, eminently readable straightforward English style. Suitable not only for undergraduate semester courses, but also for sixth-form students, teachers and all who want a readable, but scholarly, account of modern China." Geography
"Is well researched, clearly written, informative and intended for students." International Review of Administrative Sciences
"At last, an up-to-date geographer's book on China presenting information clearly and concisely with a large selection of maps as well as charts and photographs. Frank Leeming's book is one of a series of Institute of British Geographer's publications - IBG Studies in Geography. These books, intended for students around the world, provide a range of stimulating texts which critically summarize the latest developments across the entire field of geography." Britain-China
"A welcome addition to a growing literature on the geography of China."
"A badly needed update to some widely used contemporary volumes of China's geography."
"Excellent reading for people who wish to have an overview of China's economic development and its spatial implications." Environment & Planning A
"The Changing Geography of China covers a comprehensive range of topics including: resources, historical development, politics, rural and agricultural issues, industrial change, urbanization and regional variation of development."
"The Changing Geography of China is a well-rounded, highly readable book written by an author who has a great deal of familiarity and knowledge about China." Geographical Journal
"... a welcome addition to the limited number of geographical textbooks available on the most popolous country in the world." Geographical Review
What's New
* First single-author survey of China's geography for many years.
* More up-to-date than other texts on China.
* First-rate author.
* First single-author survey of China's geography for many years.
* More up-to-date than other texts on China.
* First-rate author.