The Changing Nature of Performance: Implications for Staffing, Motivation, and Development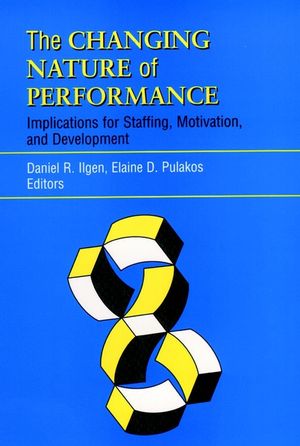 The Changing Nature of Performance: Implications for Staffing, Motivation, and Development
ISBN: 978-0-787-94625-8
Apr 1999
452 pages
Description
Radical changes in the workplace continue to impact the way we measure and manage employee performance, making the human resource professional's job more complex than ever. In The Changing Nature of Performance, a stellar group of contributors offers concrete suggestions on how the HR practitioner can cope. They examine seven major change factors that continue to influence individual performance--from the shift to team-based work to the interweaving of jobs with technology--and show readers how to develop effective HR policies and practices accordingly.
Foreword.

Preface.

The Authors.

Introduction: Employee Performance in Today's Organizations.

CHANGES IN WORK THAT IMPACT PERFORMANCE.

Technology and Performance.

Performance Assessment in Unique Jobs.

Contingent Employees: Individual and Organizational Considerations.

Continuous Learning.

Customer-Driven Employee Performance.

Leadership and the Changing Nature of Performance.

Developing Adaptive Teams: A Theory of Compilation and Performance Across Levels and Time.

THE EFFECT OF CHANGE ON THREE KEY PROCESSES -
STAFFING, MOTIVATION, AND EMPLOYEE DEVELOPMENT.

The Challenge of Staffing a Postindustrial Workplace.

Managing Work Role Performance: Challenges for Twenty-First Century Organizations and their Employees.

Performance and Employee Development.

CONCLUDING REMARKS.

The Definition and Measurement of Performance in the New Age.

Name Index.

Subject Index.