The Character of Leadership: Political Realism and Public Virtue in Nonprofit Organizations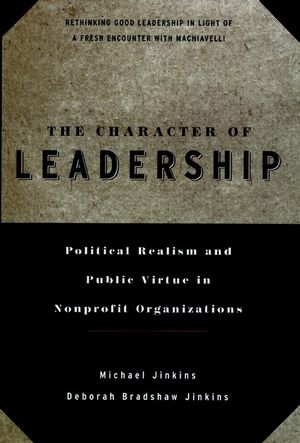 The Character of Leadership: Political Realism and Public Virtue in Nonprofit Organizations
ISBN: 978-0-787-94120-8
Nov 1998, Jossey-Bass
224 pages
Description
Behold, I send you as sheep in the midst of wolves. Therefore, be as shrewd as snakes, and as innocent as doves. --Matthew 10:16

. . . remarkable example of practical humanities scholarship. . . .Those who lead all sorts of nonprofit organizations can benefit from this bracing encounter with political realism.
--James Wind, president, Alban Institute and author of Places to Worship

Leaders of nonprofit enterprises are often motivated by a completing vision of how the world should be. Too often, however, this prevents them from understanding and skillfully operating in the realm of pragmatic realism. For nonprofit leaders who want to succeed in their efforts to change the world without selling their souls, Jinkins and Jinkins offer a guide to pragmatic and principled politics.

This book includes case studies of the political successes and failures of talented, good-hearted leaders in a variety of roles including seminary presidents, pastors, and leaders of social service agencies. The authors show us that realistic leaders know that in the rough and tumble of the real world, we must strive to create a place where our values can be translated into policy and common life--learning how to do this is the task that confronts us.
Buy Both and Save 25%!
Original Price:$64.90
Purchased together:$48.68
save $16.22
Cannot be combined with any other offers.
The Machiavelli Principle.

LEARNING FROM EXPERIENCE.

We're Not Past the Past.

Exercising a Hermeneutic of Suspicion: Or, Whose History Do We Pay Attention To?

The Perils of an Unarmed Prophet.

The Trouble with Mercenaries.

Foreseeing the Unforeseeable.

MAKING CHANGE IMAGINABLE WHERE YOU ARE.

Developing the Sense of Smell.

Are You in a Principality or a Republic?

Understanding the Ecology of Leadership and Power.

Authenticity and Duplicity.

NURTURING CHARACTER FOR REALISTIC LEADERSHIP.

Virtue Redefined: Becoming a Leader of Consequence.

Integrity.

Courage.

Flexibility.

Talent.

Prudence.

DEVELOPING POLITICAL SKILLS.

What Competence Looks Like.

Making Political Connections Without Toadying.

Builing Leadership Teams.

Planning Strategy with the Whole System in Mind.

Attracting Money Through Accountability and Good Will.

Dealing with Sabotage and Opposition.

Conclusion: Passion Is Not Enough.

References.

Index.
"Every leader will find this book a richly rewarding read. It legitimizes power and challenges leaders to embrace it and use it in their service to society." --Paul Hersey, president, Center for Leadership Studies and author of The Situational Leader

"A fresh and systematic look at the writings of Machiavelli enables the reader to see beyond the opportunism that is so often associated with Machiavelli's name to a realistic and principled set of strategies for achieving public virtue." --David A. Erlandson, professor of educational administration, Texas A&M University

"The Jinkinses have cut through much of the wishful thinking that floods our leadership discussions these days. In this remarkable example of practical humanities scholarship, they have dusted off a great political thinker and put him to work to illumine our realities. Those who lead all sorts of nonprofit organizations can benefit from this bracing encounter with political realism." --James Wind, president, The Alban Institute and author of Places of Worship