The Charismatic Leader: Behind the Mystique of Exceptional Leadership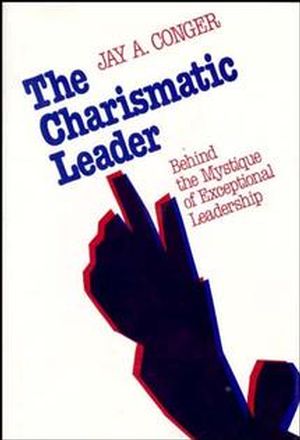 The Charismatic Leader: Behind the Mystique of Exceptional Leadership
ISBN: 978-0-470-63946-7 August 1988 Jossey-Bass 352 Pages
Description
Find out what really makes charismatic leaders tick. Here, author Jay Conger analysis the things leaders do that make their subordinates more self-assured, optimistic and productive. He reveals how the charismatic leader's qualities can revitalize organizations damaged by long periods of inertia, and why we need charismatic leadership now more than ever before. He also offers advice on how to select and train charismatic leaders?including specific suggestions on how every manager can develop these skills.
Introduction: Problems and Prospects in Understanding CharismaticLeadership.

Part One: The Nature and Dynamics of CharismaticLeadership.

1. Theoretical Foundations of Charismatic Leadership.

2. Evolving Perspectives on Charismatic Leadership.

3. Behavioral Dimensions of Charismatic Leadership.

4. Charismatic and Non-Charismatic Leaders: Differences inBehavior and Effectiveness.

Part Two: Strategic Vision and the CharismaticLeader.

5. The Visionary Leader.

6. Profiles of Strategic Vision: Levesque and Iacocca.

Part Three: The Sources and Limitations of Charisma.

7. Two Faces of Charisma: Socialized and Personalized Leadershipin Organizations.

8. Origins of Charisma: Socialized and Personalized Leadershipin Organizations.

9. Limits of Charisma.

Part Four: Development of Charismatic Leaders.

10. Developiing Transformational Leaders: A Life SpanApproach.

11. Training Charismatic Leadership: A Risky and CriticalTask.

Conclusion: Patterns and Trends in Studying CharismaticLeadership.
"Should be useful to the executive or manager who has fallen into a rut of 'managership' and needs some inspiration in the art of developing and executing a strategic vision, managing change, motivating the troops, and promoting entrepreneurship." (New York Times)