The Charismatic Organization: Eight Ways to Grow a Nonprofit that Builds Buzz, Delights Donors, and Energizes Employees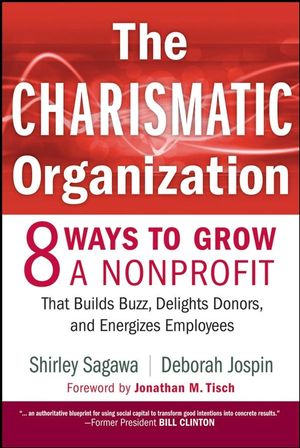 The Charismatic Organization: Eight Ways to Grow a Nonprofit that Builds Buzz, Delights Donors, and Energizes Employees
ISBN: 978-0-470-44934-9
Dec 2008, Jossey-Bass
288 pages
Description
The authors offer a framework that allows organizations to go beyond quick fixes and fundraising strategies to a broader paradigm that encompasses community and organization building. What if every person involved with an organization was fully engaged and shared a common goal? What if the efforts of a relatively small ring of staff and board members were amplified by everyone touched by the organization, including current and former volunteers, staff, board members, clients, constituents, funders and supporters? That, the authors show, is the way a charismatic organization operates. The book provides numerous examples of how successful organizations have made this shift, as well as action steps that all organizations can take to perform better.

""In today's interdependent world, nonprofit organizations have more opportunity than ever before to make a difference in people's lives. Drawing upon their extensive experience in public service, Shirley Sagawa and Deborah Jospin identify the traits that give successful nonprofits the competitive edge they need to maximize their effectiveness and sustainability. The Charismatic Organization: Eight Ways to Grow a Nonprofit That Builds Buzz, Delights Donors, and Energizes Employees draws an authoritative blueprint for using social capital to transform good intentions into concrete results.""– Former President Bill Clinton
Foreword.
Acknowledgments.
The Authors.
1 Organizations with Charisma: An Introduction.
Beyond Charismatic Leaders.
Old Paradigms.
What Makes a Charismatic Organization?
2 How Social Capital Builds Charisma.
City Year's Social Capital.
Defi ning Social Capital.
The Power of Social Capital.
Lessons from the Progressive Era.
Today's Nonprofi t Environment.
Part One: Building a Charismatic Organization: A Strong Core.
3 Mission Motivation.
Mission Matters.
A Compelling Mission.
Infusing the Mission: Honest Tea.
Unity Through Purpose: Tufts University.
Lessons for Leaders.
4 Can-Do Culture.
What Is Culture?
Why Culture Matters.
The Impact of Culture on Performance.
Where Culture Comes From: The OPX Story.
Communicating Culture: City Year.
Lessons for Leaders.
5 Data-Driven Decision Making.
Data Matters.
Data-Driven Culture.
A Road Map and Other Tools.
Evaluation.
Lessons for Leaders.
6 Purposeful Innovation.
Innovation.
Disruptive and Sustaining Innovation.
Why Innovate.
Challenges for Nonprofi t Innovators.
Building the Capacity for Innovation.
One Organization's Innovation Process: Citizen Schools.
Systems for Innovation.
Lessons for Leaders.
7 People-Focused Management.
The Power of People.
Hiring the Right People.
The Wrong People.
Keeping the Right People.
Volunteers.
The Board.
Lessons for Leaders.
Part Two: Using Charisma: Growing a Community of Support.
8 Compelling Communications.
Why Communication Matters.
The Right Tools.
Getting the Story Right: Raw Materials.
Getting the Word Out: Tools for Communicating.
Make the Offi ce Speak.
Lessons for Leaders.
9 Active Outreach.
Reaching Out.
Making Connections.
Welcoming Visitors: Lessons from Religious and Education Institutions.
A Model Visitors Program: City Year.
Lessons for Leaders.
10 Meaningful Involvement.
Involvement with Meaning.
Involvement Strategies.
Lessons for Leaders.
11 Lessons for Leaders: Concluding Thoughts.
Notes.
Index.
""In today's interdependent world, nonprofit organizations have more opportunity than ever before to make a difference in people's lives. Drawing upon their extensive experience in public service, Shirley Sagawa and Deborah Jospin identify the traits that give successful nonprofits the competitive edge they need to maximize their effectiveness and sustainability. The Charismatic Organization: Eight Ways to Grow a Nonprofit That Builds Buzz, Delights Donors, and Energizes Employees draws an authoritative blueprint for using social capital to transform good intentions into concrete results.""– Former President Bill Clinton