The Check-in Strategy Journal: Your Daily Tracker for Business and Personal Development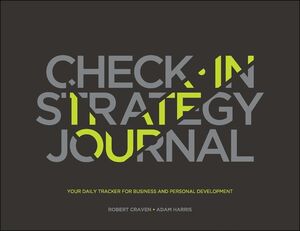 The Check-in Strategy Journal: Your Daily Tracker for Business and Personal Development
ISBN: 978-1-119-31807-1 February 2017 320 Pages
Description
Take a step closer to your goals every day with this essential executive planner
There never seem to be enough hours in the day to take care of daily business and work towards your goals, it's an issue of prioritization and time management. The Check-In Strategy Journal offers readers the solution, in the form of a daily and weekly system that shuffles your schedule until everything fits. You'll first define your goals in concrete terms, translating your vision into workable strategy, and then you'll put pen to paper and map out a plan for making it reality. Day-by-day and week-by-week, you'll watch the results roll in as you fine-tune your plans and exercise an unprecedented level of control over your life and your business.
Breaking long-term and large-scale strategy into smaller chunks allows you to celebrate the small victories. As the "wins" pile up, they fuel the momentum that keeps you moving toward the ultimate vision. This book provides a clear blueprint for setting it into motion.
Adopt daily and weekly habits in pursuit of your business goals
Define your plan with accountability and small wins
Manage your time more efficiently by prioritising goals
Gain control of your day, your life and your business
The busier you are, the more you need a compass to keep you on track. You lead and manage others, but now it's time to lead yourself. Define your vision, your way, then plan your work and work your plan. The Check-In Strategy Journal keeps you on-task and accountable, with realistic advice and practical guidance on taking back control.
Acknowledgements viii
Introduction 1
Part 1: Planning 9
Mindset: The one thing that determines everything else 13
Wheel of Life exercise: The big picture for business and personal growth 14
Business Planning 16
A sense of logic: Working through the plan in a specific order 16
Working from the big picture down 16
A big BUT… 16
Time for some definitions 16
Strategy: The first building block of the plan 17
The Business Audit: Evaluating current performance 18
FiMO-PC exercise: Measuring performance to date 20
The Three-by-Three Strategy Matrix exercise: Three-year goals 22
The Cascade exercise: Mapping the journey from vision to KPIs 24
The Wallpaper exercise: Mapping out the journey ahead 30
The Annual Business Plan 34
Personal Planning 36
Probably Your Best Year Yet exercise: Identifying your roles and goals 37
The Annual Personal Plan 41
Part 2: The Journal 43
Using the Journal section 44
Quarter 1 45
Quarter 2 105
Quarter 3 165
Quarter 4 225
Annual Review 284
Part 3: Additional Material and Resources 289
Finance machine 291
Marketing machine 292
Operations machine 293
People and Culture machine 294
A dashboard for the journey 295
Glossary 296
Bibliography and Further Reading 298
Is This the End? 299
About the companion website 299
About the Authors 300
The Directors' Centre 302