The Chef's Companion: A Culinary Dictionary, 3rd Edition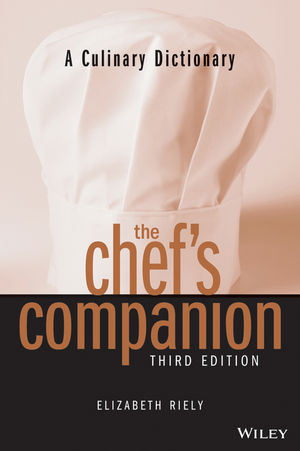 The Chef's Companion: A Culinary Dictionary, 3rd Edition
ISBN: 978-0-471-47331-2 October 2003 368 Pages
Description
Without the clear descriptions on the menu or the descriptions by your server, it might be difficult to answer the simple question, "what would you like today?" The Chef's Companion should sit on the shelf next to important cooking references to help the chef navigate the foreign language that is the culinary arts.
Table of contents
Asperge.
Bacchus.
Chèvre.
Decant.
Écrevisse.
Fennel.
Game.
Haricot.
Indian Pudding.
Jardiniére, á la.
Kale.
Lettuce.
Mushroom.
Sauce Nantua.
Oyster.
Pain.
Quail.
Rice.
Saucisse.
Terrine.
Uccèllo.
Vanilla.
Watercress.
Xérès.
Yule Log.
New To This Edition
Concise definitions. Professional chefs need brevity as they create menus and train staff.
New Terms. 900 all new terms will reflect growth and interest in: wine, pastry, and ethnic cuisine.
Appropriate as a companion title to other Wiley books including: CIA: The Professional Chef, 7th Edition and Gisslen: Professional Cooking, Fifth Edition. Ask your Wiley college representative for details about discounted packages.
Features
Timeless reference. This book captures more than 5,000 terms, which professional chefs must use every day with their customers (in menus) and in their kitchens (with staff).
Guide to Pronunciation. The entire staff needs to be versed in culinary (and wine terms).