The Chemist's English: with ""Say It in English, Please!"", 3rd, Revised Edition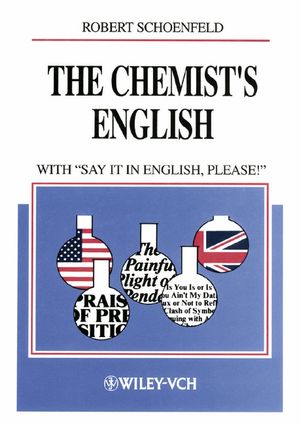 The Chemist's English: with ""Say It in English, Please!"", 3rd, Revised Edition
ISBN: 978-3-527-28003-2 August 1997 207 Pages
Description
In the days of globalization speaking and writing good English is a must, not only for chemists. That good English stands the test of time can be proved by this longselling title!

Comments on this book:

'Chemists owe it to themselves to read this book, and a high proportion of those who do are likely to want a copy to keep all to themselves ...'
Journal of the American Chemical Society
'Recommended without qualification; and a suitable gift for friends.'
Chemical and Engineering News
'There are plenty of useful tips ... in this modestly priced bijou.'
Clinical Chemistry
'What recommends THE CHEMIST'S English is above all its readability ...'
Angewandte Chemie
'This book is too good to be confined to chemists; the message is there for all scientists.'
Australian Broadcasting Commission.
'This book, which may well be one of a kind, is an utter delight.'
Carbohydrate Chemistry
'The book might well serve as a prescribed text for PhD students.'
Nature
Table of contents
1 To Get Acquainted
2 The Search for the Missing Ablative
3 Arguing with Authority
4 Defying the Dictionary
5 To Reflux or not to Reflux
6 Amazing Revelations: English Scientists Secretly Practise German Vice!
7 Of Nuts, Muttons and Shotguns
8 Tetravalency of Carbon Disproved!
9 This Chapter Explains
10 The Painful Plight of the Pendent Participle—Preamble
11 Discussing the Sentry Participle, We
12 The Case Against the Advocate
13 That's the Way She Crumbles, Language-Wise
14 Now, from the Pen that Gave You Monglish, Comes Gerglish
15 The Chemist and the Capercailzie
16 That Fellow Acronym He All Time Make Trouble
17 On the Divisibility of Earth/Worms
18 Instant Stylistics
19 A Piece of Classified Information
20 An Investigative Examination of Driveliferous Jargonogenesis
21 Brevity = Soul of Wit?
22 One, Hand, Clapping
23 Alphabetical Disorder
24 Is You Is or Is You Ain't My Data?
25 Yes, Virginia, There Is a Temperature
26 The Truth about the Truth
27 They Also Serve Who Only Pull and Tug
28 On the Training of Old Dogs for Which-Hunting
29 A Package of Strings
30 A Clash of Symbols
31 In Praise of Prepositions
32 A Prowl Among Personal Pronouns
33 How Good is Your English? How Good is English?
34 A Chemical Analysis of the English Sentence
35 Lights! Camera! Action!
36 Say It in English, Please!
Index