The Chemistry of Acid Derivatives, Supplement B, Volume 2, Parts 1 and 2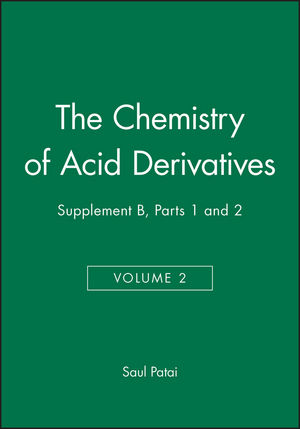 The Chemistry of Acid Derivatives, Supplement B, Volume 2, Parts 1 and 2
ISBN: 978-0-470-77250-8 January 2010 1878 Pages
Description
Leading multinational researchers in their respected fields provide total coverage of all the theoretical, physical, synthetic and analytical aspects of acid derivatives as well as their mechanistic and biological properties.
Table of contents
Partial table of contents:
Thermochemistry of Carboxylic Acids and Derivatives (G. Pilcher).
Chiroptical Properties of Acid Derivatives (J. Sandström).
Mass Spectrometry of Carboxylic Acid Derivatives (H. Egsgaard & L. Carlsen).
Nuclear Magnetic Resonance of Acids and Acid Derivatives (P. Hansen).
ESR Studies of Organic Free Radicals from Carboxylic Acids and Their Derivatives (M. Davies, et al.).
Vibrational Analysis of Acid Derivatives (H. Desseyn).
Syntheses and Uses of Isotopically Labeled Acid Derivatives (M. Zieliński & M. Kańska).
The Chemistry of Lactones and Lactams (G. Boyd).
Thio Derivatives (S. Kato & T. Murai).
Hydroxamic Acids (J. Munson).
Pharmacology of Acid Derivatives (A. Danon & Z. Ben-Zvi).
Rearrangements (M. Miranda & H. Garcia).
Indexes.