The Chemistry of Organic Silicon Compounds, Volume 3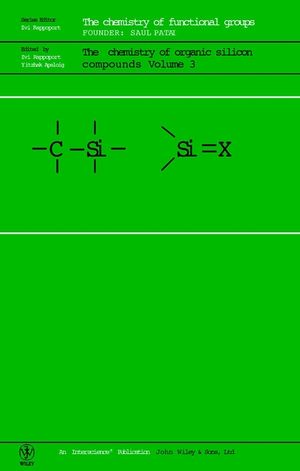 The Chemistry of Organic Silicon Compounds, Volume 3
ISBN: 978-0-471-62384-7 November 2001 1172 Pages
Description
Complementing the six volumes already published in Patai'sChemistry of the Functional Groups series this title covers topicsnot previously updated in the set.
Written by key researchers in the field it includes more practicalchapters and industrial examples than before as well as additionalmaterial.

There is a strong emphasis on "Poly" derivatives of variousclasses of silicon compounds as well as a chapter on silicon inmodern high-technology. These supplement the "practical" parts ofearlier volumes and enhance past material.




* Continues with the high standard expected of the series
* Complement to the 3 volume set of the chemistry of organicsilicon compounds published in 1998
* Updates content from previous volumes and includes chapters ontheory and silicon based radicals that are of theoretical andpractical importance
* An invaluable reference source to organic chemists working inacademia and industry
* Includes many more industrial examples than previous titles inthe series
This volume complements the main volumes, with little overlap, andensures the functional group series continues its superiority inthe silicon field.

This volume is now available in electronic format from BooksOnline.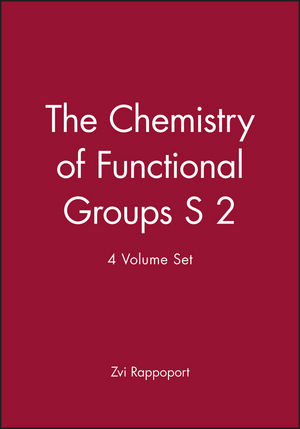 Buy Set of 4 Items
This item: The Chemistry of Organic Silicon Compounds, Volume 3
Original Price:$10,825.00
Purchased Together:$7,535.00
save $3,290.00
Cannot be combined with any other offers.
Original Price:$2,447.00
Purchased together:$1,835.25
save $611.75
Table of contents
Theoretical Aspects of Compounds Containing Si, Ge, Sn and Pb (M.Karni et al).

(Helium 1) -
Photoelectron Spectra of Silicon Compounds: History andAchievements Concerning their Molecular States (H. Bock and B.Solouki).

?29Si NMR Experiments in Solutions of Organosilicon Compounds (JanSchraml).

Silyl Radicals (C. Chatgilialogulu and C. H. Schiesser).

Recent Advances in the Chemistry of Silicon -
Silicon Multiple Bonds (Manfred Weidenbruch).

Recent Developments in the Chemistry of Compounds withSilicon-Nitrogen Bonds (Peter Neugebauer, Bettina Jaschke and UweKlingebiel).

Organosilicon Halides -
Synthesis and Properties (Uwe Herzog).

Synthesis of Multiply Bonded Phosphorus Compounds UsingSilylphosphines and Silylphospides (Masaaki Yoshifuji and KozoToyota).

Polysilanes: Conformations, Chromotropism and Conductivity (RobertWest).

Nanostructured Hybrid Organic -
Inorganic Solids. From Molecules to Materials (Bruno Boury andRobert J.P. Corriu).

Polysiloles and Related Silole -
Containig Polymers (Shigehiro Yamaguchi and Kohei Tamao).

Polysilanols (Paul D. Lickiss).

Silicon-Based Dendrimers and Hyperbranched Polymers (David Y.Son).

Biotechnology Reveals New Routes to Synthesis and StructuralControl of Silica and Polysilsesquioxanes (Daniel E. Morse).

Chemistry on Silicon Surfaces (Cheol Ho Choi and Mark S. Gordon).

Silyl Migrations (Mitsuo Kira and Takeaki Iwamoto).

Kinetic Studies of the Reactions of Si=C and Si=Si Bonds (Tracy L.Morkin, Thomas R. Owens and William J. Leigh).

Ion-Molecule Reactions of Silicon Cations (Simonetta Fornarini).

Author Index.

Subject Index.

Contents of Volume 1.

Contents of Volume 2.
Reviews
"...the authors bring many scientific disciplines to play tobring greater understanding of silicon organic chemistry. Thesilicon-x bond has been done proud." (Journal of MetalsOnline, September 1, 2004)

"The 18 chapters in this latest addition...continue thelong-standing tradition of excellence associated with the series."(Journal of the American Chemical Society, Vol. 124, No. 19,2002)

"...the high quality of the contributions and the remarkablyhomogeneous coverage of the material make this book a pleasure toread...the book should be held by any good chemical library. Ihighly recommend it..." (Synthesis and Reactivity in Inorganicand Metal-Organic Chemistry, Vol. 33, No. 1, 2003)