The Chemistry of Organogold Compounds, 2 Volume Set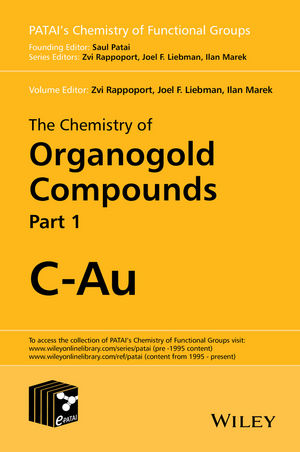 The Chemistry of Organogold Compounds, 2 Volume Set
ISBN: 978-1-118-43873-2
Apr 2015
1232 pages
Description
The first book in the PATAI Series was published in 1964 and the Series will celebrate its 50th Anniversary in 2014. This ?Golden Jubilee? is accompanied by the publication of the first volume on the chemistry of organogold.
In the history of the PATAI Series there was, so far, no volume dedicated to gold alone. In 1999 we published a volume on The Chemistry of Gold and Silver Compounds. Since then a lot of new chemistry using gold has been developed and it is timely to focus a volume on methods and applications of organogold compounds in organic synthesis, reflecting the enormous progress which has been made in the use of gold compounds as reagents and catalysts.
A second area of great importance covered in the book is the use of gold surfaces in the synthesis of peptides, proteins and other natural products. A whole range of applications in the area of biochemistry has resulted from these developments. A third area of interest is the synthesis and engineering of nanostructures, where organogold chemistry has opened the door for a wide range of methods and applications in the field of nanoscience and materials science.

As with all new volumes, the chapters are first published online in Patai's Chemistry of Functional Groups. Once a volume is completed online, it is then published in print format. The printed book offers the traditional quality of the Patai Book Series, complete with an extensive index.