The Chemistry of Organolithium Compounds: R-Li, Volume 2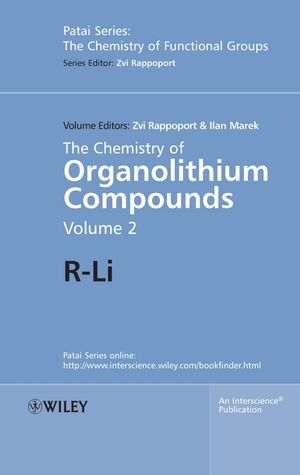 The Chemistry of Organolithium Compounds: R-Li, Volume 2
ISBN: 978-0-470-02321-1 February 2006 768 Pages
Description
Patai Series: The Chemistry of Functional Groups

A series of advanced treatises founded by Professor Saul Patai and under the general editorship of Professor Zvi Rappoport

The Patai Series publishes comprehensive reviews on all aspects of specific functional groups. Each volume contains outstanding surveys on theoretical and computational aspects, NMR, MS, other spectroscopical methods and analytical chemistry, structural aspects, thermochemistry, photochemistry, synthetic approaches and strategies, synthetic uses and applications in chemical and pharmaceutical industries, biological, biochemical and environmental aspects.

To date, over 100 volumes have been published in the series.


Recently Published Titles

* The chemistry of the Cyclopropyl Group (Volume 2)
* The chemistry of the Hydrazo Azo and Azozy Groups (Volume 2, 2 parts)
* The chemistry of Double-Bonded Functional Groups (Volume 3, 2 parts)
* The chemistry of Organophosphorus Compounds (Volume 4)
* The chemistry of Halides, Pseudo-Halides and Azides (Volume 2, 2 parts)
* The chemistry of the Amino, Nitro and Nitroso Groups (2 volumes, 2 parts)
* The chemistry of Dienes and Polyenes (2 volumes)
* The chemistry of Organic Derivatives of Gold and Silver
* The chemistry of Organic Silicon Compounds (2 volumes, 4 parts)
* The chemistry of Organic Germanium, Tin and Lead Compounds (Volume 2, 2 parts)
* The chemistry of Phenols (2 parts)
* The chemistry of Organolithium Compounds (2 parts)
* The chemistry of Cyclobutanes (2 parts)
* Forthcoming Titles
* The chemistry of Peroxides (Volume 2, 2 parts)
* The chemistry of Organozinc Compounds
* The chemistry of Anilines


The Patai Series Online

The Patai Series is available in electronic format on Wiley InterScience. All new titles will be published online and a growing list of older titles is added every year. It is the ultimate goal that all titles published in the Patai Series will be available in electronic format.
Table of contents
1 Dynamics of the reorganization behavior of organolithium compounds (Gideon Fraenkel).
2 Organolithiums as useful synthetic intermediates for tandem reactions (Alvaro J. V´azquez, Raquel G. de Waisbaum and Norma Sbarbati Nudelman).
3 The chemistry of acyllithium derivatives (Carmen Najera and Miguel Yus).
4 Intramolecular carbolithiation reactions (Francisco J. Fañanás and Roberto Sanz).
5 Structure and dynamics of chiral lithium amides (Göran Hilmersson and Johan Granander).
6 Chiral lithium amides in asymmetric synthesis (Daniel Pettersen, Mohamed Amedjkouh and Per Ahlberg).
7 The lithium metal reduction of π-conjugated hydrocarbons and fullerenes (Ivan Aprahamian and Mordecai Rabinovitz).
8 Aspects of the synthesis, structure and reactivity of lithium enolates (Jean-Yves Valnot and Jacques Maddaluno).
9 Chemistry of ketone dilithio dianions (Ilhyong Ryu and Hiroyuki Nakahira).
Author index.
Subject index.
Table of Contents of Volume 1.