The Chemistry of Peroxides, Parts 1 and 2, 2 Volume Set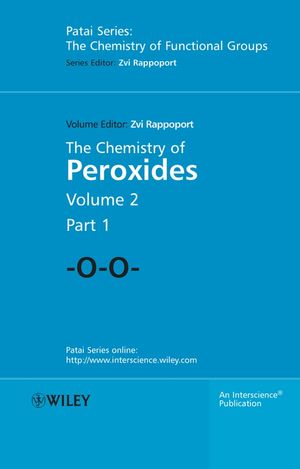 The Chemistry of Peroxides, Parts 1 and 2, 2 Volume Set
ISBN: 978-0-470-86275-9 February 2007 1518 Pages
Description
The Chemistry of Peroxides is a new volume in the Chemistry of Functional Groups series. This series covers all aspects of organic chemistry with each volume containing chapters on:
General and theoretical aspects
Computational approaches
Thermodynamics and kinetics
NMR and ESR
Mass Spectrometry
Spectroscopies
Analytical aspects
Reaction mechanisms
Syntheses
Biological effects
Environmental effects
Industrial applications 
Edited by Zvi Rappoport, this series provides outstanding reviews on all aspects of functional groups in analytical, physical, synthetic and applied chemistry.
1 General and theoretical aspects of the peroxide group (Robert D. Bach).
2 The structural chemistry of acyclic organic peroxides (Jens Hartung and Ingrid Svoboda).
3 Thermochemistry of peroxides (Suzanne W. Slayden and Joel F. Liebman).
4 17O NMR spectroscopy of organic compounds containing the O−O group (Giovanni Cerioni and Francesca Mocci).
5 Synthesis of cyclic peroxides (Edward E. Korshin and Mario D. Bachi).
6 Synthetic uses of peroxides (Albrecht Berkessel and Nadine Vogl).
7 Analytical and safety aspects of organic peroxides and related functional groups (Jacob Zabicky).
8 Silicon and germanium peroxides (Wataru Ando).
9 Selective formation of allylic hydroperoxides via singlet oxygen ene reaction (Michael Orfanopoulos, Georgios C. Vougioukalakis and Manolis Stratakis).
10 Polar effects in decomposition of peroxidic compounds and related reactions (Sung Soo Kim).
11 Peroxides in biological systems (Jean Cadet and Paolo Di Mascio).
12 Sulfur and phosphorus peroxides (Vidyadhar Jadhav, Min Young Park and Yong Hae Kim).
13 Transition metal peroxides. Synthesis and role in oxidation reactions (Valeria Conte and Olga Bortolini).
14 Contemporary dioxirane chemistry: Epoxidations, heteroatom oxidations and CH insertions (Waldemar Adam and Cong-Gui Zhao).
15 Contemporary trends in dioxetane chemistry (Waldemar Adam and Alexei V. Trofimov).
16 Chemiluminescence of organic peroxides (Wilhelm J. Baader, C. V. Stevani and Erick L. Bastos).
17 Biomimetic Fe(II) chemistry and synthetic studies on antimalarial and antitumour endoperoxides (Paul M. O'Neill, James Chadwick and Sarah L. Rawe).
Author index.
Subject index.
"… this high-quality book is an indispensable reference book that should find its place in every good scientific library." (
SYNTHESIS
, December 2007)
"…this volume is an extremely useful background/overview resource that should be part of the collection of any comprehensive chemistry library." (Journal of the American Chemical Society, January 17, 2007)