The Chemistry of Peroxides, Volume 3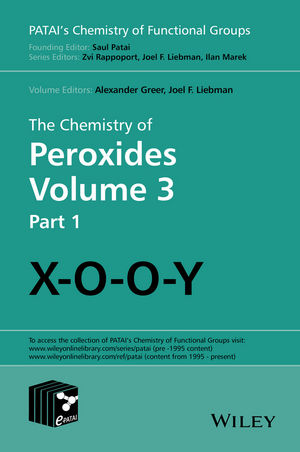 The Chemistry of Peroxides, Volume 3
ISBN: 978-1-118-41271-8 April 2015 1120 Pages
Description
The understanding of functional groups is key for the understanding of all organic chemistry. In the tradition of the Patai Series each volume treats all aspects of functional groups. Each volume contains chapters on the theoretical and physicochemical foundations; on analytical aspects; on reaction mechanisms; on applications in synthesis. Depending on the functional group there are additional chapters on industrial use, on medical use, and on human and environmental toxicity issues.
The last volume in the series on the topic (Peroxides Vol. 2) was published in 2006. In the eight years since then a lot of developments have taken place, especially in the areas of synthesis, analysis and a better theoretical understanding of the reaction mechanism, all of which are covered here.
As with all new volumes, the chapters are first published online in Patai's Chemistry of Functional Groups. Once a volume is completed online, it is then published in print format. The printed book offers the traditional quality of the Patai Book Series, complete with an extensive index.