The Chemistry of Triple-Bonded Functional Groups, Supplement C2, Volume 2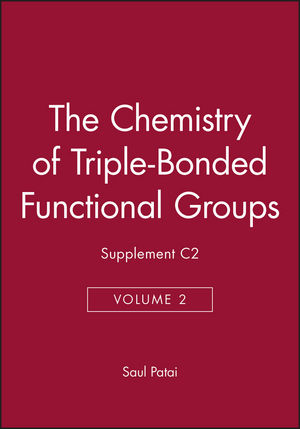 The Chemistry of Triple-Bonded Functional Groups, Supplement C2, Volume 2
ISBN: 978-0-471-93559-9 January 1995 1366 Pages
Description
Considerable advances have been made regarding the chemistry of triple-bonded functional groups since the first volume in this series was published. This updated version covers information which has been reported during the last 15 years.
Partial table of contents:

The Nature of the Triple Bond (H. Basch & T. Hoz).

Photoelectron Spectra of Systems with Triple Bonds Between Main Group Atoms--Recent Studies (R. Gleiter & W. Schafer).

Electronic Effects of Cyano, Isocyano, Acetylenic and Diazonio Groups (J. Shorter).

Photochemistry and Radiation Chemistry (W. Horspool).

Rearrangements Involving Triple Bonded Groups (D. Whittaker).

Biochemistry of Triple-Bonded Functional Groups (D. Banthorpe).

Polycyano Compounds (R. Dworczak & H. Junek).

Electrophilic Additions to Functional Groups Containing a Triple Bond (W. Drenth).

Arynes and Heteroarynes (H. Hart).

Alkynyl (phenyl) Iodonium and Related Species (P. Stang).

Indexes.