The Chemistry of the Metal Carbon Bond, Volume 5: Organometallic Compounds in Organic and Biological Synthesis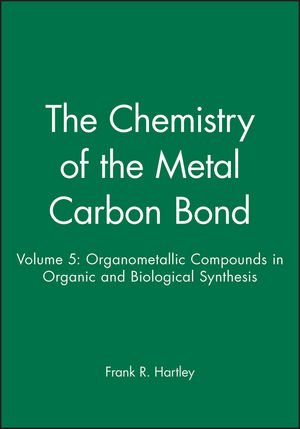 The Chemistry of the Metal Carbon Bond, Volume 5: Organometallic Compounds in Organic and Biological Synthesis
ISBN: 978-0-470-77226-3
Jan 2010
606 pages
Description
Part of a multi-volume work within the series "The Chemistry of Functional Groups", this volume covers the chemistry of the metal-carbon bond as a whole, but lays emphasis on the carbon end. It is also concerned with the use of organometallic compounds in organic and biological synthesis. It includes chapters on synthetic techniques such as sonochemistry, photochemistry and phase-transfer catalysis, on synthetic reactions such as asymmetric synthesis, oxidation and metathesis, on synthetic reagents such as metal clusters, organolanthanide, organoantimony and organobismuth reagents and chapters on biological alkylation and bio-organotin compounds.
SYNTHETIC TECHNIQUES.
The Application of Sonochemistry in the Formation and Reactions of Metal-Carbon Bonds (D. Bremner).
The Photochemistry of Organometallic Compounds (C. Long).
Phase-Transfer Catalysis in Organometallic Chemistry (J. Petrignani).
SYNTHETIC REACTIONS.
Enantioselective Syntheses with Optically Active Transition Metal Catalysts (H. Brunner).
Organometallic Oxidation Catalysts (G. Speier).
Olefin Metathesis (J. Feast & V. Gibson).
SYNTHETIC REAGENTS.
The Use of Transition Metal Clusters in Organic Synthesis (G. Süss-Fink & F. Neumann).
Lanthanide Reagents in Organic Synthesis (G. Molander).
The Use of Organoantimony and Organobismuth Compounds in Organic Synthesis (L. Freedman & G. Doak).
BIOLOGICAL SYNTHESIS.
Biological and Environmental Methylation of Metals (P. Craig).
Bioorganotin Compounds (K. Molloy).