The Child Psychotherapy Progress Notes Planner, 3rd Edition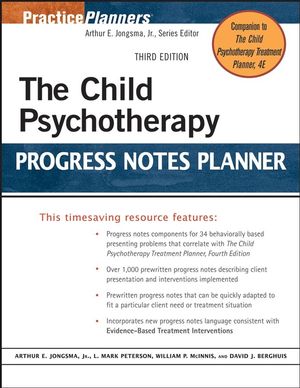 The Child Psychotherapy Progress Notes Planner, 3rd Edition
ISBN: 978-0-471-78536-1
Jan 2007
408 pages
Product not available for purchase
Description
As with the previous edition, The Child Psychotherapy Progress Notes Planner, Third Edition helps mental health practitioners reduce the amount of time spent on paperwork by providing a full menu of pre-written progress notes that can be easily and quickly adapted to fit a particular patient need or treatment situation.
PracticePlanners® Series Preface.
Acknowledgements.
Introduction.
Academic Underachievement.
Adoption.
Anger Management.
Anxiety.
Attachment Disorder.
Attention-Deficit/Hyperactivity Disorder (ADHD).
Autism/Pervasive Developmental Disorder.
Blended Family.
Bullying/Intimidation Perpetrator.
Conduct Disorder/Delinquency.
Depression.
Disruptive/Attention-Seeking.
Divorce Reaction.
Enuresis/Encopresis.
Fire Setting.
Gender Identity Disorder.
Grief/Loss Unresolved.
Low Self-Esteem.
Lying/Manipulative.
Medical Condition.
Mental Retardation.
Obsessive-Compulsive Disorder (OCD).
Oppositional Defiant.
Parenting.
Peer/Sibling Conflict.
Physical/Emotional Abuse Victim.
Posttraumatic Stress Disorder (PTSD).
School Refusal.
Separation Anxiety.
Sexual Abuse Victim.
Sleep Disturbance.
Social Phobia/Shyness.
Specific Phobia.
Speech/Language Disorders.