The Chinese Yuan: Internationalization and Financial Products in China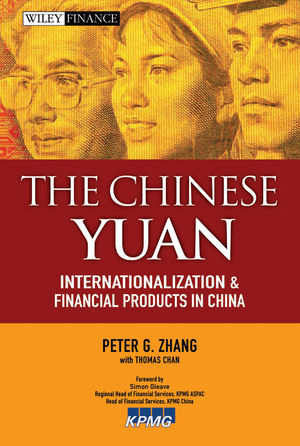 The Chinese Yuan: Internationalization and Financial Products in China
ISBN: 978-0-470-82737-6
Feb 2011
250 pages
Product not available for purchase
Description
Few topics have attracted as much attention worldwide in recent years as the RMB. These debates have gained added urgency in light of the financial crisis and the topic of RMB revaluation is now being actively debated in countries all over the world from Tunisia to the United States. This book explores the ever-changing role of the RMB and the related derivative products. However, it does so from a view that is heavily influenced by the fallout from the financial crisis as well as the in the context of the increasing maturity of the Chinese capital markets. The author has drawn on his experience as a regulator to provide invaluable views, insights and information on RMB derivative products and the development of this market going forward.

Key topics include:
Overview of current China economy and its capital market
In-depth analysis on the China's banking system and foreign exchange system
Extensive analysis of on-shore and off-shore financial products in China
Explanation of the needs and reasons for RMB products innovation
Insights into the internationalization of the RMB
Not only will this book leave its readers with a much clearer idea of the structure of China's capital markets but it also gives insights on the market going forward leveraged through Peter Zhang's many years of experience as both a senior banker and through his integral role in the key regulatory authority of the banking sector, the CBRC.
Foreword.
Preface.
Acknowledgments.
PART ONE The Chinese Economy and Financial Markets.
CHAPTER1 The Chinese Economy.
CHAPTER2 China's Banking System.
CHAPTER 3 China's Capital Market.
CHAPTER 4 China's Foreign Exchange System and International Investment Positions.
PART TWO Major Onshore CNY Products and Their Markets.
CHAPTER 5 CNY Foreign Exchange Forwards.
CHAPTER 6 The Foreign Exchange Swap Market.
CHAPTER 7 CNY Bond Forwards.
CHAPTER 8 CNY Interest Rate Swaps.
CHAPTER 9 Forward Rate Agreements.
CHAPTER 10 Wealth Management Products in China.
CHAPTER 11 Other CNY Products.
PART THREE Offshore CNY Derivatives Products.
CHAPTER 12 CNY Non-deliverable Forwards.
CHAPTER 13 CNY Non-deliverable Options.
CHAPTER 14 CNY Non-deliverable Swaps.
CHAPTER 15 Non-deliverable CNY Interest Rate Swaps.
CHAPTER 16 Stock Index Futures and Options.
PART FOUR The Internationalization of the CNY and Development of CNY Markets.
CHAPTER 17 Major International Currencies and Their Foreign Exchange Market Liquidities.
CHAPTER 18 Lessons from the Internationalization of the Yen.
CHAPTER 19 The Current Status of the CNY Internationalization Process.
CHAPTER 20 Market and Product Trends Under the Internationalization of the CNY.
Bibliography.
Index.